Recent research from Incisiv and Windstream/BRP show that retailers are actively investing in digital initiatives across the enterprise, yet they still face challenges across many areas. We sat down with two key executives to understand where retailers should prioritize and focus to ensure success.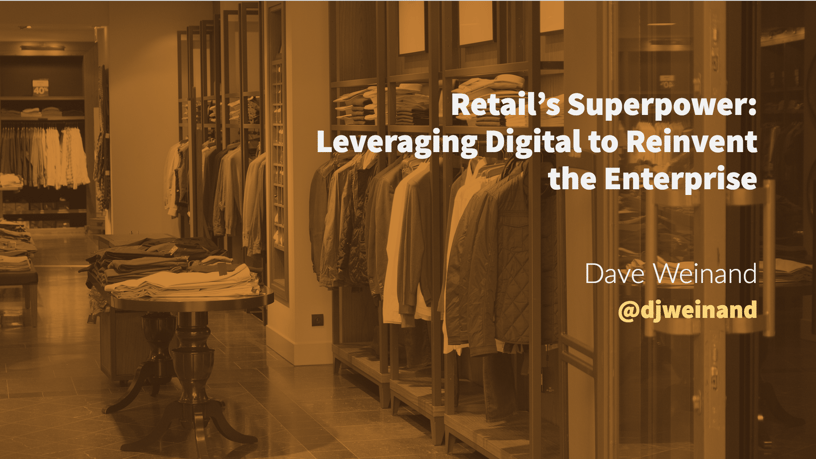 Panelists:

Ken Feyder
Senior Director, IT Business Solutions
Tapestry (Coach)


Jeffrey Neville
SVP, eCommerce & Digital Marketing Practice Lead
BRP Consulting


Dave Weinand
Chief Customer Officer
Incisiv


Dave. The increasing influence of digital is driving retailers to experiment with new store experiences and formats to deliver on customer expectations. In your opinion, what are the most compelling new in-store applications and/or formats you are seeing in the market?

Jeffrey. One of the more compelling store formats is the "new retail" concept, called Hema, run by China's e-commerce giant, Alibaba. The Hema stores simultaneously act as marketplaces, commerce platforms, fulfillment centers and innovation hubs where they allow customers to experience new brands and products. The 25 Hema stores are a unique and entertaining experience that act as a destination.
The in-store shopping experience is centered around the Hema mobile app and shoppers must use the app to fully optimize the services. These include:
Scan barcodes on products for information on sourcing, branding, pricing and nutritional value.
Pay for products by scanning them at a self-checkout counter and pay using the app, which is integrated with the Alibaba mobile payment service, Alipay.
Request products delivered to their home free of charge within 30 minutes. Hema associates collect the products, bag them and place them on an in-house transportation network that spans the store's ceiling.
The mandatory use of the Hema app allows the store to leverage big data to optimize the store's offerings.

Ken. With so many applications available on the marketplace, it is difficult for me to pinpoint a particular app or concept that I would rate dramatically more innovative than others. That being said, I think we are experiencing a significant shift in customer behavior. We're seeing this globally and I'll use as a example a scenario we experienced with the world's foremost luxury shoppers - Chinese consumers.
About 6 or 7 years ago, I remember seeing a Chinese tourists' group schedule for visiting Paris. It allocated more time to visiting Galleries Lafayette Department Store for shopping than it did for visiting The Louvre! Over the last decade, this notable group of customers has shaped the retail experience of many brands. The retail-centric behavior of Chinese shoppers continued to drive a more focused response from many retailers. That, in turn, created a market place for countless point-solutions related to improving a particular aspect of the shopping experience.
However, I have recently observed a shift in this group's behavior. When traveling to tourist destinations like Paris, New York, or London, today's Chinese tourists are less inclined to adhere to a shopping-centric itineraries in lieu of cultural experiences. Less time is being spent on shopping. To me it signifies the beginning of the evolution where a retail experience becomes a logical bi-product of tourism, as opposed to its former position "at the center" of travel. Hence, digital technology that focuses strictly on retail (i.e. improvements in payment, seamless omni-channel, ease of returns etc.) while remaining important, will only deliver marginal results. In my opinion, better focus on digital technology that is NOT dedicated to purely commerce (such as partnerships with Chinese travel service CTrip, or integrations with hospitality technology providers etc.) would ultimately deliver better results as it relates to delivering a more logical and cohesive retail experience many brands desire.
----------

Dave. While progress is being made by retailers in investing in new digital applications, many of the applications are misaligned with customer expectations. In your opinion is this likely due to limited focus on customer insights, the age old 'shiny object' syndrome or something else?

Jeffrey. Retailers have made great strides in understanding customer personas, the customer journey and their customers' expectations. The misalignment between the applications offered by retailers today and their customers' expectations is likely due to the current technical and operations complexity that is the result of years of under investment in the technology that supports the in-store customer experience.
This lack of investment has created a situation that is commonly referred to as 'technical debt'. This technical debt makes it more expensive and potentially cost prohibitive for a retailer to deploy new customer experience features. The best way to overcome technical debt is to heavily leverage cloud applications and SaaS partners to replace aging subsystems, one step at a time.

Ken. First, I agree with Jeffrey on the point of technical debt.
In addition, I would say that while retailers have learned a great deal of knowledge as to why and how customers buy, many are still lacking the depth of understanding of other key aspects of retailing. Why customers return products; why they choose to pay with a given payment method; how individual behaviors change between channels; what exactly triggers true loyalty, etc. These facets of customer experience are intrinsically exposed to external forces, and are harder for retailers to control. This often results in "if we can't control it, why invest in understanding it" attitude. But I would argue that these things represent as significant part of customers' journey as the purchase itself, and need to be much better understood.
Somewhat surprisingly to some, what really doesn't work here are surveys. Research shows that only 4% of dissatisfied customers will complain. The other 96% will simply go away. And only 1-2% of consumers receiving "how was your experience" type of surveys will actually respond. Any statistics (and "insight") gathered as such is fundamentally flawed.
To that end, I think much more focus and attention needs to be given to the big data many retailers already have. It is by much deeper analysis of trends of those "auxiliary" parts of the customer journey that a retailer may be able to differentiate a real "game changer" from a "shiny object du jour" when experimenting with any given application of digital concept.
----------

Dave. More than ever retailers are relying on the customer facing and operational applications of emerging technologies to elevate the customer experience. In your opinion, what should a retailers investment strategy be to maximize their return on such applications?

Ken. While ROI is a traditional de facto measuring stick for investment, in my opinion it may not be the best gauge to evaluate next-gen technology and investment distribution. There is no one-size-fits-all formula, as customer journey expectations vary from one area of the retail sector to another. And even within a given sector, there are differences in retailers' store ops cultures that impacts applicability of a given technology.
In an effort to ensure strategic investment success, a critical group of stakeholders with the most relevant knowledge is, surprisingly, rarely consulted… that group being front-line store employees. Technologies are deployed "to stores", not "with stores". HQ-centric view of next-gen technology is often misaligned with realities of the field. This gap needs to be resolved by involving field ops in the process, and vise-versa. Anecdotally-speaking, why not make "spend a full day in our store" a required step in every RFP?

Jeffrey. Excellent points Ken. As we see it, to maximize retailers' ROI for emerging customer-facing and operations technology, the proper investment strategy should be based on based on a test and learn agile approach. At BRP we use an agile methodology that is tailored for retail. This methodology combines an upfront customer persona and journey mapping exercise with a traditional scrum methodology to incrementally test, prove and deploy next-gen technologies. This approach allows our retail clients to quickly confirm that a technology is valuable to their shoppers and understand the business case to fully deploy the solution.
----------

Dave. What in your opinion is the 'superpower' of the retail leaders that helps them eliminate the persistent execution gap that average retailers continually face? (Apart from sheer scale of operations)

Jeffrey. For many retailers, fear of change and a fear of failure inhibit the companies from deploying the technology needed to meet their customers' expectations. Some organizations build a great strategy for customer engagement in their stores but implementation of this strategy grinds to a halt when they start to envision what it will look like operationally in a store. As Ken alluded to in the previous question, it's important to ask "What if it negatively impacts the customer experience?" and "What if the associates don't like the change?". The retail leaders that are excelling with exceptional customer experience ignore these fears. This is their superpower. They understand that they can identify quickly if something isn't working, stop it and help their teams ask three key questions:
What did we learn about ourselves and our customers from this experience?
How can we grow as an organization from this experience?
What are three positive things that came out of this test or pilot?
Answering these three questions allow the retailer to move forward and find a better solution to the customer experience challenge they are trying to resolve.

Ken. I agree with Jeffrey.
I would also add that an honest introspective is the superpower. This superpower, however, seems to be extremely rare – which is mainly attributed to a cultural phenomenon of "everything is always green". It is incredibly rare to hear an IT leader admit that despite their best intentions, the introduction of so-and-so technology ultimately delivered a marginal – if any – measurable result. But CIOs (and CEOs) that establish and reinforce a message that it's OK to fail vs. not even trying, will lead their organizations past competition.
Once this culture has been foundationally established, retail IT departments could work with their finance partners to establish a process by which all investments are revisited post-factum and reviewed against initial goals. So that promised lift in sales, or the improved inventory management, or whatever was promised… Has it actually been accomplished? And what have we learned from this experience – regardless whether it was a success or failure?
Many would argue that these concepts are just common sense – but in reality we practice a lot less common sense if lieu of politics. If this can change, the visibility to the real execution gap will become more clear, and a platform for bridging this gap will be established.