People are the core of digital transformation. "Digital" is more than selling stuff on the web. The core of retail needs a gut rehab. A thought exercise for SAP. Costco co-founder Jim Sinegal's prophylactic references. This, and more in my recap of SAP's 2017 Retail Executive Forum in NYC.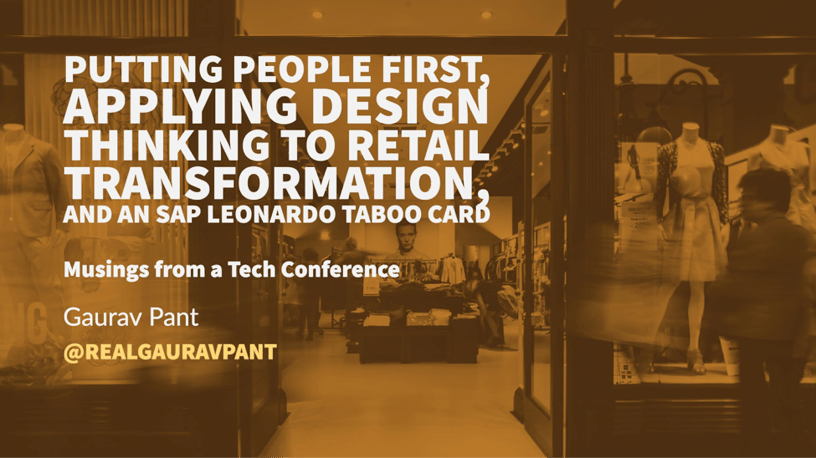 You go to tech conferences expecting to hear a few new buzzwords, learning how those buzzwords will change life as we know it, and then finding out over cocktails exactly where those buzzwords belong.
By contrast, enterprise software firm SAP's annual executive event focused on retail - the Retail Executive Forum - was a pleasant surprise.
For a software firm eager to demonstrate the role its technology plays (or can play) in helping retailers build a stronger core as they retrain their muscle fiber to be competitive in a brutal new contact sport, SAP did well to focus the dialogue on an oft-forgotten aspect of digital transformation: people.
Over the last few months I've had the unique opportunity to chat fireside with more than a hundred retail executives at varying levels of operational and strategic responsibility at midsize and large brick & mortar retailers. The perspective I've gained puts into context the fundamental building blocks of digital transformation. The insights I gleaned from attending SAP's event help fill out a clearer narrative that I believe is worth sharing.
"Turn Your Inventory, Not Your People"
During a masterclass on retail leadership, Jim Sinegal - the storied co-founder and former CEO of Costco - elegantly summed up the direct relation between happy employees and happy customers.
As retailers think about what it means to be "digital", they must also figure out what it is they stand for - for their stakeholders (sure), for their customers (absolutely), but first and foremost - for their employees (often overlooked). The reality, however, is the prioritization in most cases is the exact opposite.
The average employee turnover in retail at 70% (and close to 100% during the holiday season) points to a few realities: employees look at retail as a job, not a career; there is little difference in working for one retailer vs. the other; and that employee turnover should be a retail CEO's single biggest strategic priority.
No great customer experience was built atop a miserable one for associates. If you look at a cross-section of retailers cited as leaders in terms of customer experience, such as Costco, Apple, Chick-Fil-A and Abt Electronics - each is obsessively focused on its people and its culture. At the height of the recession in 2008, the average hourly wage at Costco was $19, and 86% of Costco employees (half of them part-time) received healthcare coverage.
The fact is retailers are competing with the likes of Amazon, Facebook and other exciting new brands for the best talent, and those that don't focus on their employee experience will lose.
Digital is the Core of Great Employee & Customer Experience
Digital Transformation isn't about "selling more stuff" on the web, via social media, on marketplaces, on mobile phones. It is about clarifying your business model, associate experience and customer experience, simplifying operational complexity and building a strong core for agile, scalable growth.
Most retailers have cobbled together a patchwork of technology platforms "at the edges" (point of sale, ecommerce, order management, supply chain, workforce management etc.), integrated (loosely) with the core (business process templates, ERP, financials, payroll, data warehouse).
It is a matter of time before organizations transform their core, because they can no longer deliver the next generation associate and customer experience at the edges. The core execution engine of the enterprise will be "digital" - supporting both business transactions and intelligent insights.
Augmenting and Automating Action through Insights
Retailers must not confuse an employee-first culture with one that prioritizes instinct over insight. Passion and drive are undeniable virtues - those that enable entrepreneurs, employees and corporations to achieve great success and blow past obstacles. However, retailers must guard against historical success turning into muscle -memory for doing things a certain way (the means) versus remaining focused on delivering an amazing experience (the end).
Retailers must get better at combining analytics and action - be it by empowering employees to make smarter decisions, or by combining analytics with automation. The one thing that stands in the way - ego.
Applying Design Thinking to Digital Transformation
"There's a shift under way in large organizations, one that puts design much closer to the center of the enterprise. But the shift isn't about aesthetics. It's about applying the principles of design to the way people work", says Jon Kolko in the 2015 November issue of Harvard Business Review.
Implementing the same business process on a new technology stack is pointless, even if you really enjoy burning money. A retailer's inability to deliver amazing employee and customer experiences is a design problem, not a technology one.
Design Thinking led companies such as Apple, Nike and Tesla do this day in and day out. Few of these companies have a formal "innovation" program or function, rather it is simply what they do. Disney created a magical experience by deconstructing its entire front end experience and back-end operations, and then tying it all together for the customer and the associate through the Disney Magic Band.
For others, it is a skill they need to learn because the new normal requires a fundamental shift in how business processes are architected and deployed. I found this case study about SAP's (ongoing) journey to infuse design thinking in its organization a fascinating read ($8.95, HBR).
Among SAP's initiatives, two stand out for me that are worth noting. One, they (rather quietly) acquired a digital attribution company, Abakus, that helps retailers take a broader view of their business. A channel-centric structure is retail's design problem that impedes true customer centricity. The acquisition tells me SAP is paying more than lip-service to the idea of being invested in helping retailers transform "the core".
Second, SAP is embedding itself in collaborative processes with clients (both old and new), utilizing concepts such as digital twin and other solution accelerators to go from ideation to execution in 8-10 weeks. The more SAP is able to embed design thinking into its platform, processes and implementations (and by virtue into those of its clients), the closer its customer perception will be to that of its own.
SAP's Big Challenge
The challenge for SAP is twofold. The first is simplifying the message and explaining in plain speak what their technology enables by focusing on the clarity of outcomes. I propose a thought exercise for SAP executives: describe SAP Leonardo without the use of fancy buzzwords that people don't understand. Here's a reference card for the next time the SAP executive team plays Taboo.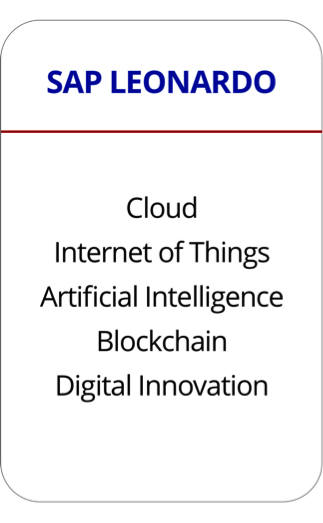 For instance: Leonardo helps reduce cost of core platform customization by many millions of dollars.
The second is being a stronger player at the edges (Workforce Engagement, Assets & Supply Chain, Supplier Collaboration, Customer Experience) and competing with new startups that don't have the legacy and baggage of large ERP players, and can make new innovation/software easily consumable.
---
The industry conference circuit can get tiring pretty quickly. The same faces and the same spiel in the same conference rooms repeated a zillion times over till you can lip sync the words to a keynote speech. Which is why the candor and freshness at SAP Retail Executive Forum, especially of Jim Sinegal's masterclass stayed with me.
Reference to prophylactics are rare in business conferences, in the opening session rarer still. Jim recounted an anecdote when his mentor Sol Price (founder of FedMart and Price Club, who hated competition) was asked how it felt to be the father of the warehouse club industry.
Sol paused and replied "Should've worn a condom".
Team SAP: Great job, and thank you for inviting Incisiv to attend.