As small and mid-size restaurants face new competitors, strive harder to please customers, and strengthen digital operations, they must utilize focused insights to improve business performance.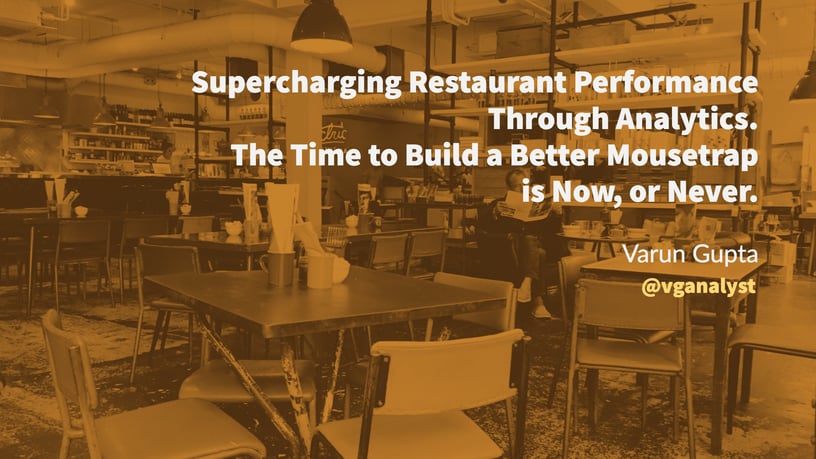 I previously busted the 3 myths that prevent small and mid-size restaurants from utilizing analytics more effectively. The broader question, however, is why must they focus on better utilization of data and insights at all?
The restaurant industry faces a harsh reality:
New competitors (grocery, convenience, meal-kits) are bleeding into the share-of-stomach, each offering a unique value proposition that appeals to the same set of target customers.
As the eat-at-home trend grows (Food delivery is expected to grow from $43 billion in 2017 to $76 billion in 20221), and aggregators and delivery services such as Seamless, GrubHub and UberEats begin to "own" the customer connection, restaurant operators will find themselves increasingly distanced from their most valued customers. It won't be long before your delivery partners offer a private label, lower-priced, highly rated clone of your best sellers on their platform. Amazon built the model where it learnt from the highest selling, most profitable orders on its marketplace platform to then offer the same via its private label brands.
As restaurant brands and operators embrace digital ordering, new challenges emerge (order profitability, kitchen line management, consistent brand experience). Managed well, each of these is at best a pain-in-the-backside; unmanaged, a crippling disaster-waiting-to-happen.
The narrative is simple. With increased competition, restaurants need to compete on more than just convenience, location or novelty of format. The question regarding whether they should use analytics to help improve customer engagement and operational profitability is how, not if.
Ultimately, data and insights are only as useful as your strategic intent. While integrating analytics into restaurant operations can help operators, the journey must begin with an investigative mindset along with a clear definition of your burning questions, such as:
Which of my most valuable customers am I likely to lose, and what can I do to save them?
What are my most and least profitable orders and items?
What is the value of digital ordering to my business?
Is my delivery partnership helping or hurting my business?
What are the most severe points of friction in my operational processes that are bleeding margin or causing customer dissatisfaction?
There is no silver bullet. Yet, there are a few key areas of focus based on our experience that we recommend restaurant operators evaluate. Presented here with a few illustrative examples.
Menu Optimization
Why? Menus play a dominant role in influencing customer dining decisions, and finding the right balance of items to offer is not easy. A small menu with few items is easy to manage and execute but reduces customer choice and sales opportunities. A large menu offers greater choice and sales potential but could lead to increased inventory costs, waste, customer order time and reduced product quality. A hard menu assessment is needed to rationalize the menu and focus on items that move the needle by driving traffic (destination, high reorder %) or sales.
Benefit: Menu optimization can give restaurant operators an edge across multiple dimensions by keeping prep time in check, ensuring high quality production, improving table turn & profitability without comprising customer choices.
How? Getting started is easy. Analyzing transaction data can uncover menu performance and deliver insights on things like prep time, best sellers, cross-sell affinity, items profitability, most returned items and much more. The below graph captures some key aspects of menu optimization.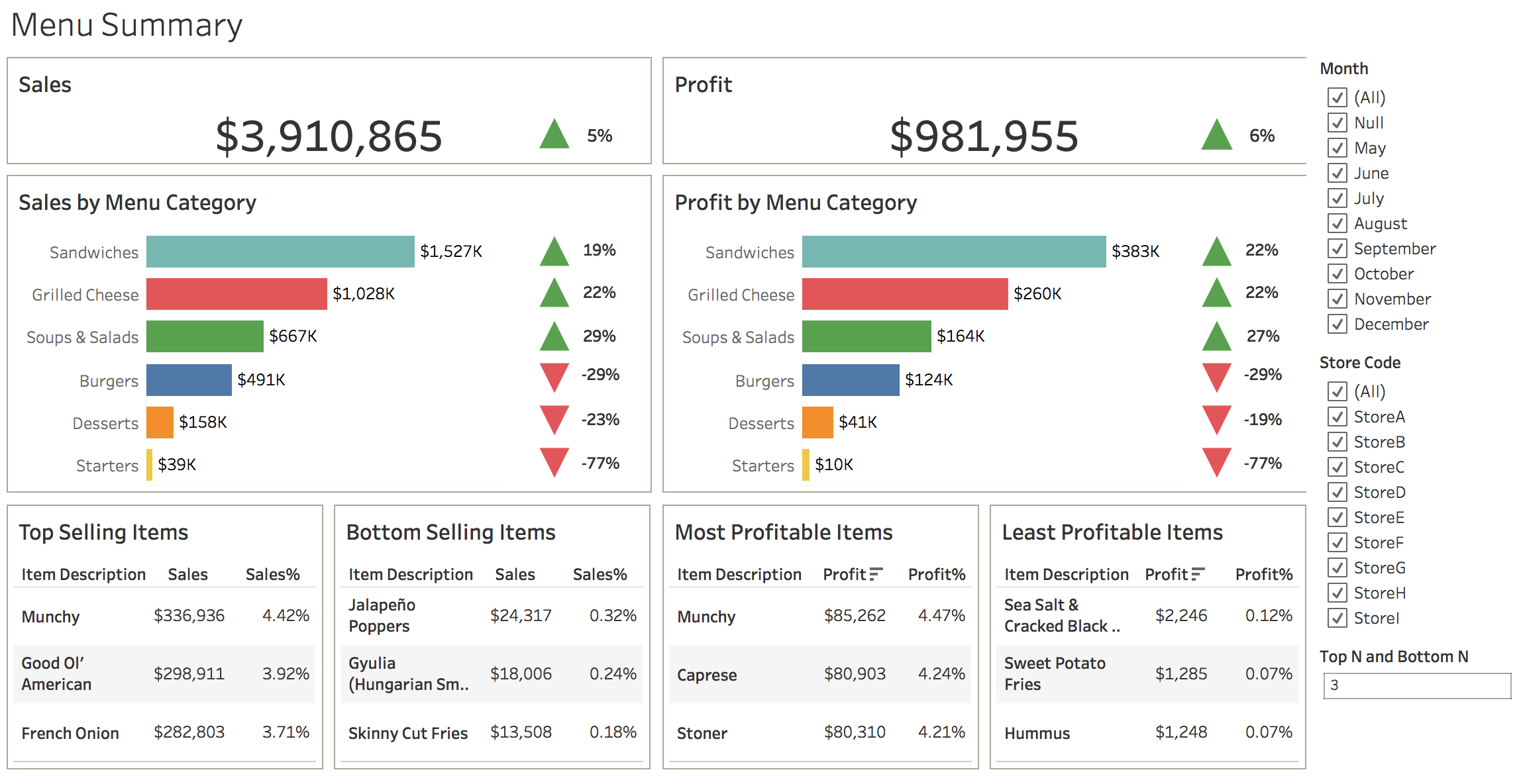 Source: Incisiv's Menu Performance Dashboard (Data is illustrative)
Customer Segmentation
Why? If you think every customer is special, that's just another way of saying no one is. Customer segmentation provides a strategic way for aligning new products, marketing/offers and services with customer profitability.
Benefit: Even focusing on one aspect of segmentation, marketing/offers can help improve customer engagement, offer effectiveness and customer lifetime value.
How? Restaurants can segment customers based on buying preferences, gender, demographics and other characteristics. One method to do that is based on recency & frequency of visits and the monetary value spend (RFM). Based on this method they can segregate customers in segments such as loyal customers, best customers, big spenders, lost customers & lost low profit customers (screenshots below). You can also augment this analysis with other customer and transaction data to build behavioural segments/personas that provide greater insight (e.g. Big Spenders that experiment with new menu items).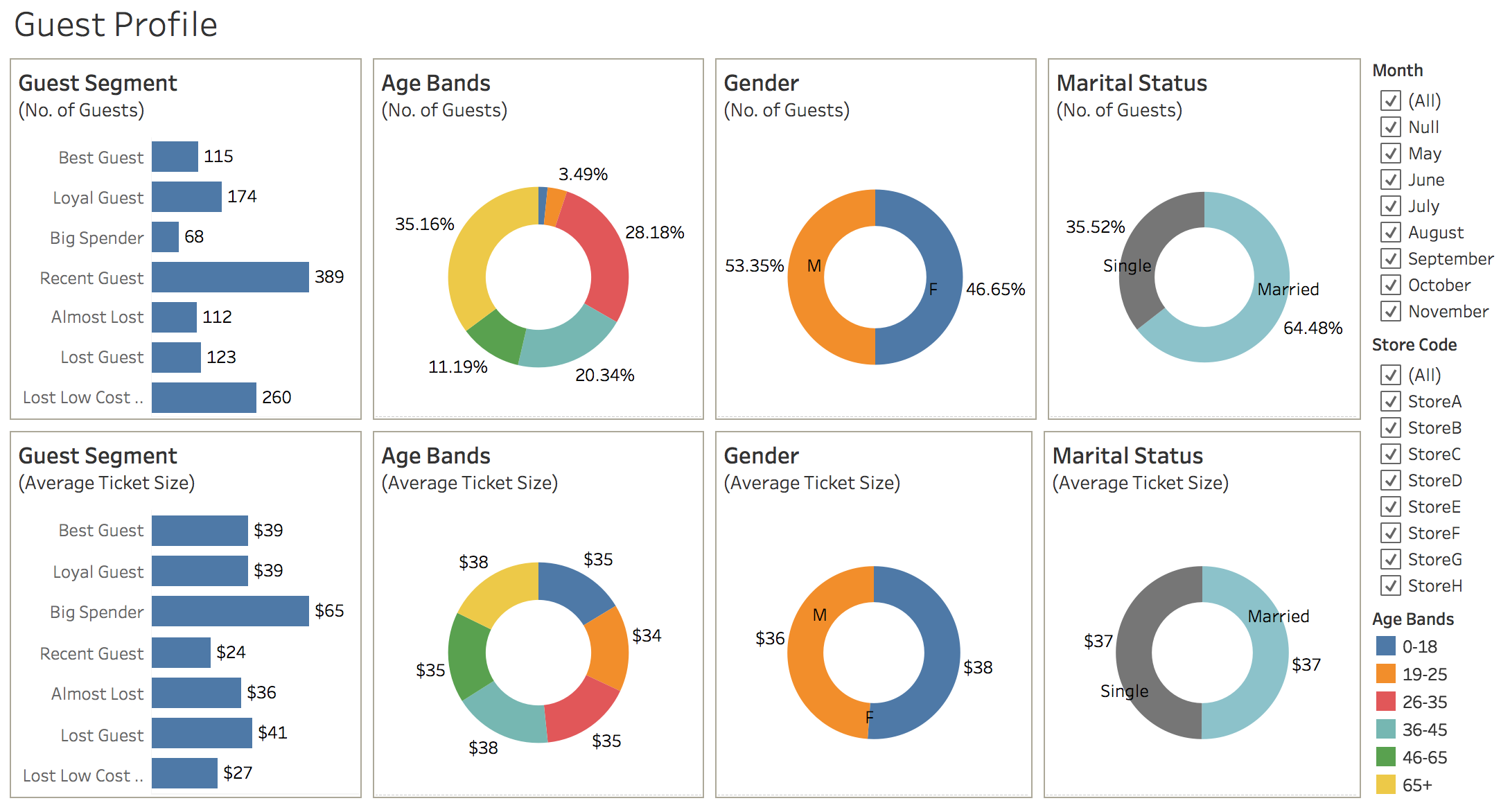 Source: Incisiv Customer Segmentation Dashboard (Data is illustrative)
Labor Optimization.
Why? Higher wage rates, new labor regulations and managing spurts in demands from digital orders are increasing the pressure on restaurants to optimize their labor budget.
Benefit: Increased labor efficiency and effectiveness has a clear and significant impact on the bottom-line. Additionally getting the right person at the right place doing the right thing is extremely valuable because it helps deliver a higher quality of experience (on-time orders, no long lines at the counter, exemplary table service).
How? Stop treating labor scheduling/management as an isolated silo. Labor requirements need to be customer-centric incorporating multiple data-sources. For instance, restaurants can optimally staff the locations by analyzing foot traffic/demand, looking at what items are selling by day of the week or by hour of day. If 60% of the sales are happening between 1PM - 2PM, the labor shifts should be planned accordingly.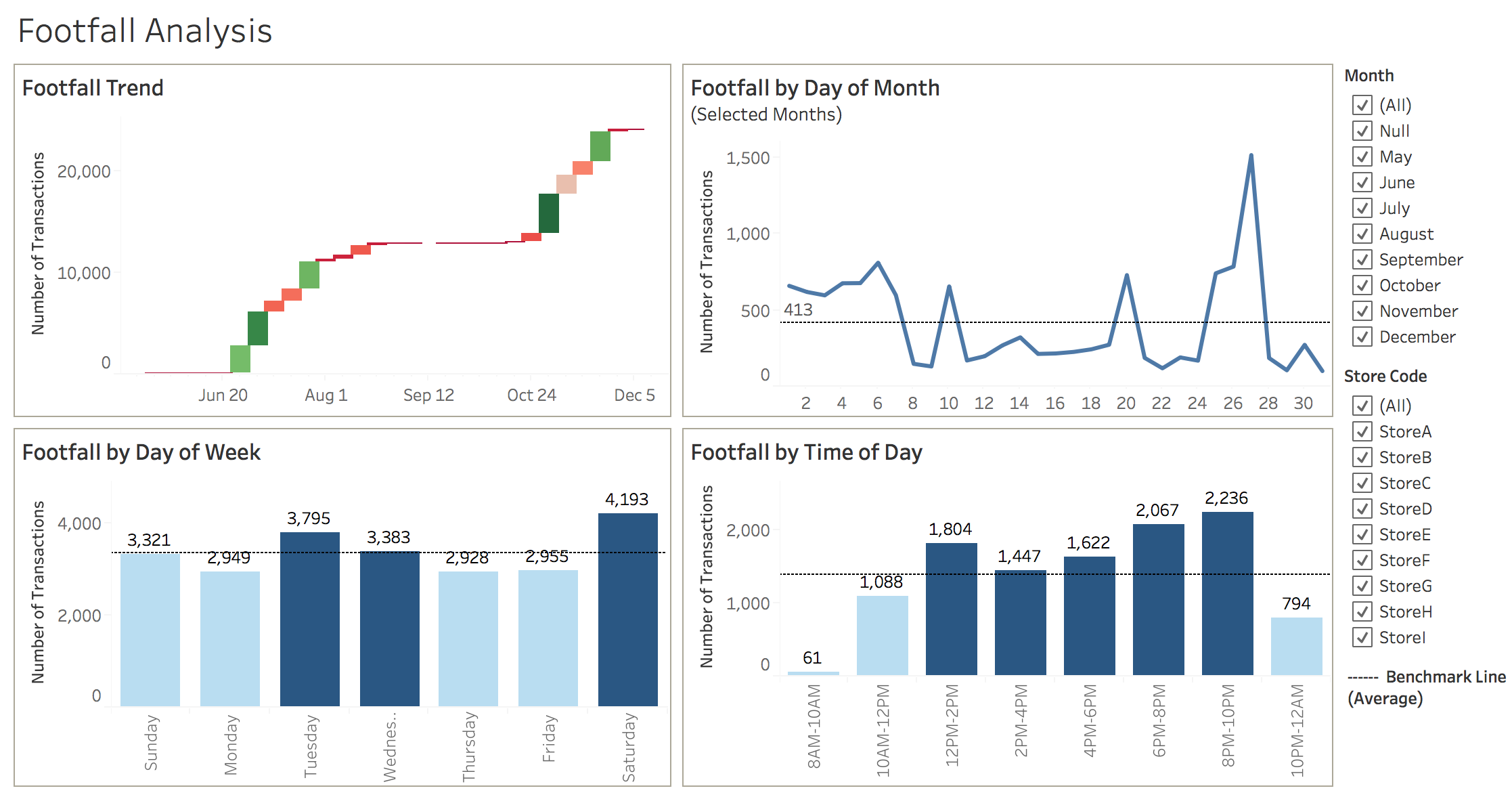 Source: Incisiv Footfall Dashboard (Data is illustrative)
Predictive Analytics
Why? Because foresight is better than hindsight. Knowing when a customer will visit, what they will order or how much inventory is needed next Tuesday to avoid both stock outs and spoilage can be extremely valuable capabilities.
Benefit: You can apply predictive analytics to most things, from improving current operations to predicting future requirements. By applying the right set of machine learning algorithms you can get to greater accuracy of promotions, inventory levels, and cross-sell opportunity among others.
How? Let us take an example. Getting a more precise idea of expected orders can help optimize inventory levels and manage replenishment, because running out of your top selling items in the middle of the day is far from ideal.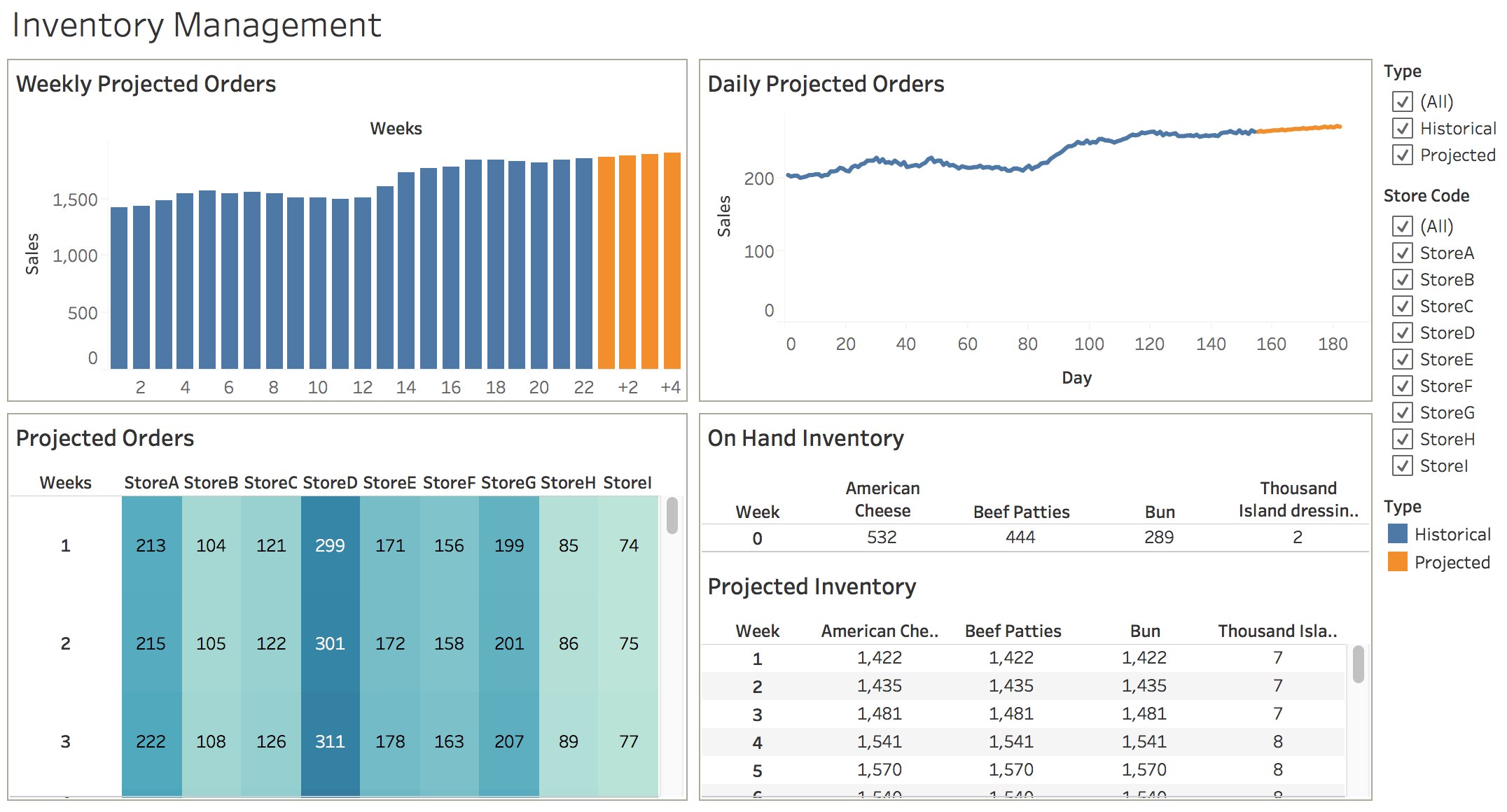 Source: Incisiv' Inventory Projection Dashboard (Data is illustrative)
Restaurants need to leverage their best sellers to build robust customer loyalty and retention programs. They need to measure the true impact and profitability of digital orders, or risk flying blind into the unknown.
The time for restaurants to use their treasure trove of customer and operations data to build a better mousetrap is now or never.
Note: The examples listed are meant to spur thought and discussion, if you want to learn more and get into the weeds just email me at varun.gupta@incisiv.io