Bill Little joins Incisiv as [placeholder title] to drive…..oh screw this…. #NRF2020 #NRFBIGShow2020 #Megexit
NEW YORK, N.Y., January 11, 2020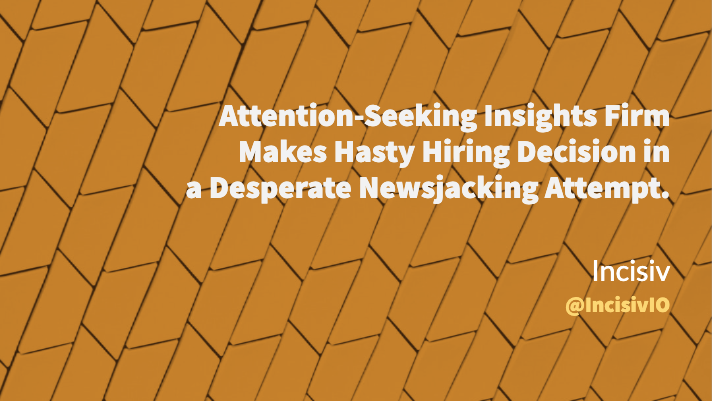 Incisiv, a woke insights firm known for its progressive stance on ageism, announced today that little known Bill Little has joined as VP of Business Development.
Little, known to his very few friends to be highly anal-rententive, has somehow been able to keep clients happy in various strategic sales roles for over 15 years. Not only will little Bill be responsible for driving Incisiv's business across brands and technology providers, he will also be a constant source of nit-picking the team about pretty much everything.
"As Incisiv enters its third year, we believe this little addition will help to finally meet the low expectations we already had for the firm", said Chief Strategy Officer, Giri Agarwal.
As someone who calls himself a musician (bass player doesn't really count) and an athlete (a mountain biker from Florida, umm, where there are no mountains), Little's ability to stretch the truth to fit a preferred narrative will hold him in good stead at a firm known to do exactly that.
Little, his hipster goatee and Asheville beer snobbery will all report to industry veteran David J Weinand. Elaborating on the strategy and timing of bringing Little on, Weinand said, "We've been looking for a seasoned sales leader for some time now. It's not like Bill was our only choice, but we had to rush the decision with the retail industry's trade show around the corner. He was available".
"OK, Boomer", said Little.
Bill lives with his lovely wife Amanda and two girls Scarlett and Kendall who have serious doubts about their family's financial future. "At least now I won't have to get braces", said 5 year old Kendall.