A fireside chat with leaders from Boston Retail Partners and Windstream as they share how guest expectations are pulling the restaurant industry to invest in improving the dining experience.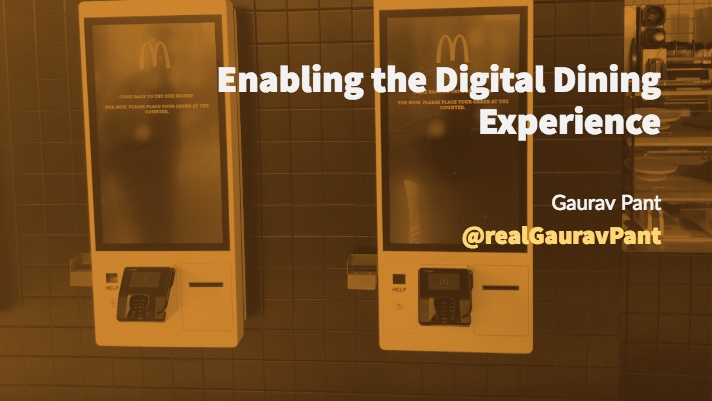 Featured in This Exclusive Fireside Chat

Greg Griffiths
Vice President of Marketing
Windstream


Scott Langdoc
SVP & Practice Lead
Boston Retail Partners


Gaurav. Consumers are increasingly expecting the companies they do business with to fit into their expectations for efficiency, self-expression, and experience. What steps must restaurant operators take to adapt to these new expectations?

Greg. Interestingly enough, consumer expectations in these three areas have something in common: they are enabled through digital technologies. Restaurant operators are planning an unprecedented digital deployment in the next 24 months that involves more than doubling their operational technology and IT infrastructure. This includes everything from interactive kiosks and mobile POS to Customer WiFi to augmented reality experiences. It's quite an exciting time for the industry. However, in order for all these applications to function properly, operators have to factor in the connectivity infrastructure on which all these services ride. This infrastructure must be scalable, reliable and secure.

Scott. Good points Greg. The best opportunities for restaurant operators lie when the focus is on removing friction and complexity from all phases of the guest experience, while simultaneously deploying more interactive, influence-driving personalization to that same experience. Any technology that LOOKS like technology during critical steps of the dining journey runs the risk of being intrusive, frustrating, and more effort than the experience is worth.
----

Gaurav. Restaurants are on a big hot streak with many new dining formats and technologies being launched that are looking to capitalize on the latest consumer trends. Who do you see as the most interesting players in the fast casual or QSR markets?

Scott. Much of the rapid transformation and technology adoption in fast casual and QSR is coming from long-standing, well-known brands like McDonalds, TGI Fridays and Chick-fil-A. Improvements in self-service and mobile technologies, proactive fine-tuning of menu offerings, and overall improvements to the experience whether at counter, curbside, or drive-through is helping both operational and financial performance, while also enhancing the experience for both new and established customer segments. That said, new fast casual concepts that dial in on specific core menu offerings (think ramen, poke, healthy/natural) are also making sure that new technologies, especially mobile for ordering and CRM, are a native part of their brand offering.

Greg. I find it fascinating as well that the industry giants are leading the charge leveraging technology. I am impressed by the way Starbucks seamlessly combines mobile payments with their loyalty program, tying an incentive structure to new technology adoption which saves customers time while rewarding their behavior in a cleverly integrated buying experience. This is part of a broader strategy to converge digital and in-store experiences and has positioned Starbucks as the leader in mobile payments. They have more U.S. based proximity mobile payment users than Apple Pay, Google Pay or Samsung Pay* and the percentage of their customer transactions using mobile payments (over 30%**) is blazing the trail for what's possible.
----

Gaurav. As we referenced, some of the leading legacy operators such as Dominos (order/pay app), McDonalds (mobile order ahead/pay) and Friday's (tablet order/pay) have leveraged technology to remove friction from the dining experience. Is technology the answer to winning with the guest in today's environment? What do you see as the most interesting applications of technology?

Greg. Technology is one piece. The enabler. It doesn't replace all the other aspects that are still critical to create a great guest experience. Applications vary by segment. For example, QSR customers have adopted self-service kiosks because they speed up the Q in QSR. In casual dining, the use cases are more creative. TGI Friday's, for instance, sees themselves as a "technology company that happens to sell beer and ribs". Their deployment of artificial intelligence for a one-click order application (half an hour before meal time) that leverages both internal and third party data to gain better customer understanding, exemplifies their commitment to improving the dining experience through technology. Regardless of which technologies serve your restaurant best, if it doesn't work, it is worse than not having the technology at all. Success depends on application performance and uptime, which necessitates a review of the wide area network - and can be the difference between missed guest expectations and a great CX.

Scott. Yes, Greg! Technology is increasingly at the center of effective restaurant operations and guest experiences. However, of equal if not greater importance is for operators to focus on worker/associate training and engagement strategies that help drive improvements in efficiency and execution. This will help offset rising labor costs and the increased difficulty in attracting the best candidates. Finally, increased flexibility in the restaurant supply chain is also important – better demand forecasting, more flexible supplier fulfillment and more proactive visibility to product and supply costs.
----

Gaurav. As operators increasingly look to incorporate digital technologies into the dining experience, what requirements from a back-office technology and operations perspective must they be aware of ensure success?

Scott. The increased digitization of both front and back of house of every restaurant requires stable, scalable connectivity for nearly every component of the guest experience or restaurant operations. This includes rock-solid payment security requirements, a satisfying guest WiFi experience, and more and more native cloud applications running in each location. To enable all this, the quality of the network design and its orchestration is more important than ever. The value proposition of network architectures like SD-WAN are fully aligned to support the increased level of flexibility, stability, scale, security, and management.

Greg. As we've discussed, restaurant operators are making big bets on digital technology to transform the dining experience to avoid falling behind on guest expectations. Digital is enabling mobility and convenience to help guests discover, order, pay, track status and engage with their favorite restaurants. It's important to point out that a common thread for all these technologies is their reliance on the cloud. This is a big advantage in terms of deployment times but it requires enhanced bandwidth and if not managed properly can expose security threats. Fortunately, newer technologies like SD-WAN can keep data safe and enhance performance while actively managing multiple connections to eliminate downtime.