In this blog, we'll be discussing how the role of the associate has been redefined and what retailers and restaurants need to do to ensure they have the right processes, tools, and culture in place to ensure the safety of their teams and their customers / guests.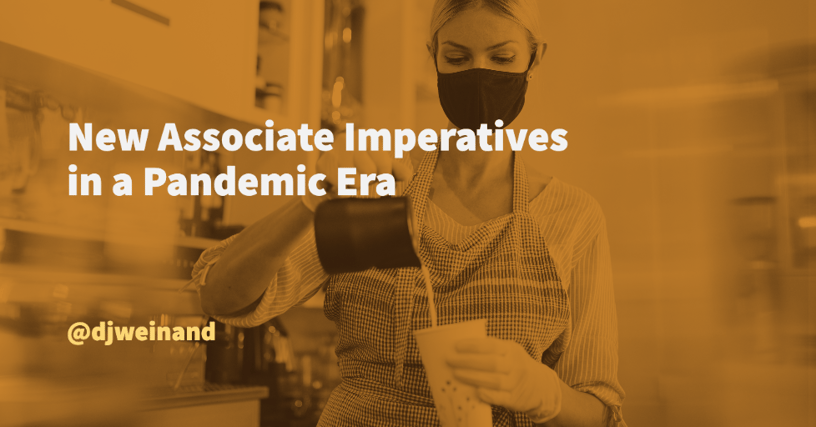 Featured in This Exclusive Fireside Chat

Sue McMahon
Industry Executive - Retail & Consumer Goods
Microsoft


Elizabeth Ebert
Executive, Global and NA American IT Advisory Lead
Avanade


Dave Weinand
Chief Customer Officer
Incisiv


Dave. How do you see the role of store associates changing in the new world we live in?

Sue. As the adoption of omnichannel has grown, the role of store associates has shifted dramatically in the past several years. Associates have evolved from exclusively serving customers in physical stores, to becoming enablers of online commerce. They now serve as order pickers and order deliverers through new capabilities in BOPIS / Curbside and micro-fulfillment. While this trend will continue, activities around reporting of execution compliance will be discontinued or automated due to fiscal necessity. The result will be a more myopic focus on the customer, a positive development.

Elizabeth. As the cost model for retailers is reconsidered, it appears inevitable that individual stores will continue to need to do more with less. Shifts will likely include fewer employees (the exception, of course, are grocery and mass merchants). Those who will be working are going to be covering broader ranges of responsibilities, including store capacity monitoring, click2collect fulfillment, safety monitoring, etc. We see this across retail segments.
Interestingly enough, there is data that shows while grocery shopping was once considered tedious, the lack of more experience-based shopping (think movie theaters, apparel, bars, etc.) has pushed the trip to the grocery store to a new status. It is now seen as an 'escape' from the doldrums of being home.
----

Dave. What will be the top challenges with finding and retaining associates as retail and restaurants reopen?

Elizabeth. Wages continue to be a top issue in finding and retaining associates. Many 'essential' retailers paid a bonus for working during the initial stages of COVID, and while some have rolled those back, many others have made them permanent to attract and retain their workforce. As things open up, many associates will have this new expectation of higher wages, which will likely cause challenges for so many of the cash-strapped retailers.
Additionally, there has been a significant increase in call center hiring across industries, and these positions are offering more flexibility and better pay. I see this as competition for like-skilled associates, and retailers will have to adopt new policies and benefits to compete.
Lastly, associate safety has been vital in attracting employees back to their positions. Training on safety protocols is the first step in building confidence that the return to the work environment has been well planned. Ongoing positive reinforcement of the safe workplace will be necessary for retention.

Sue. One immediate challenge with finding and retaining associates in the US is the unemployment benefits extension of the CARES Act. While, in my opinion, this is justified, if an associate can make considerably more income through unemployment benefits at the state and federal level, there is little incentive to go back to work immediately. Retailers will have to deal with that.
Also, for restaurant associates, depressed customer traffic will hurt income potential (e.g., tips) and will force some to look to other industries for employment. Ultimately, this culmination of factors and other will result in a reevaluation of the business contributions of qualified frontline workers and compensation models will have to evolve accordingly.
----

Dave. Have the characteristics of the ideal store employee changed since the pandemic hit, or are they essentially the same?

Sue. The characteristics of successful store employees remain unchanged in the post-pandemic world, from my perspective. The focus on putting customers first has not changed. In fact, it has become even more important. What has changed is what the definition of putting the customers first means.
While it is true that retailers must still equip store associates with the tools and knowledge needed to assist customers in identifying and acquiring desired products, associates must now also be prepared to instil confidence in the safety and cleanliness of the shopping environment.

Elizabeth. I agree with Sue - the characteristics of an ideal employee have not changed and, if anything, are more critical now than ever. In my opinion, the new responsibilities that are part of an associate's job will require a strong process around training. Retailers that can provide solid training and invest in their associates will not only have better employees; they'll be able to maintain them for longer.
I also believe that based on the current state of our society, retailers and associates will become increasingly aligned. For example, socially responsible retailers will attract associates that share similar social views and missions. These developments will create a better employee / employer relationship and therefore create a better experience for the customer.
----

Dave. How can technology better enable associate safety and the associate to guest experience?

Elizabeth. 2020 has seen a broadening definition of the term 'experience.' Beyond how the customer experience is defined, it is now recognized that companies who focus on building positive employee experiences more frequently deliver better customer experiences. Therefore, I believe that new tools supporting employee training, engagement / collaboration, and community building are outstanding platforms to embed safety messaging and capabilities to create the most productive employee platform possible.

Sue. The fundamental behaviors that create an exceptional guest experience – knowledge, empathy, and care – are more critical than ever. The ability for associates to deliver these behaviors cost-effectively and at scale, however, can only be enabled with digital / mobile tools. Investments in mobile-based technologies are going to be table-stakes as the economy reopens. Tools that enhance associate safety through mobile access to pre-shift wellness checks, schedules (request time off, swap shifts, etc.), and HR / benefits information will create a more efficient operation during a time when efficiency is vital to survival.