Subscription-based Digitally Native Vertical Brands (DNVBs) are leveraging unique product, marketing and fulfillment strategies that is causing real disruption across all retail segments.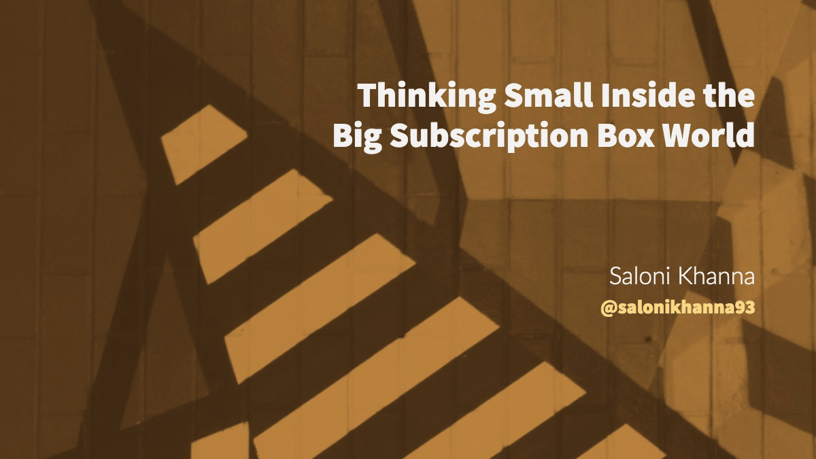 Digitally Native Vertical Brands (DNVBs) are turning the world of legacy retail on its head. There is not a segment of retail that doesn't have at least one competitor (and in many cases several) from a new brand that is selling directly to your customers either online or increasingly, in-store.
Because of the impact, this next generation of brands is having on the industry, Incisiv is launching an ongoing series of blogs that will profile unique companies and formats.
One of the formats that have generated a tremendous amount of funding and a tremendous amount of press coverage is the subscription-based DNVB. These were some of the earliest DNVB's in the market and they've exploded in the last five years. In fact, at last count, there are almost 60 subscription-based companies in the market across categories.


Source - CB Insights
We will start with one of the first DNVB's to make a huge impact in their segment and then profile two additional brands that made it big in the online subscription space.

1. Dollar Shave Club - Achieved 25% 2-year retention
Dollar Shave Club just didn't sell cheap razors that are delivered to your doorstep, but in the process built a best in class retention strategy for a traditional consumer-facing product that helped them grow into a billion dollar company.
The brand has nailed the recurring revenue model strategy, with a much higher retention rate than most consumer-facing brands.
After 12 months, 50% of customers still used the service. This is in the same league as Netflix. In contrast, only 22% of Blue Apron and 12% of HelloFresh customer are still active after 12 months.


Source - Second Measure
The idea highlights how a simple product coupled with the convenience of online commerce can create a never-before-kind of opportunity in the most traditional, guarded and opaque consumer-facing markets.
Brand Highlights
After a year more than 50% of customers still use the service, and after 2 years more than 25% continued to use it.


Source - Second Measure

The brand raised a total of $163.5M in funding over 7 rounds before 2016.
From late 2014 through fall 2015, Dollar Shave Club outspent Gillette on TV ads $64.5M to $43.4M leading to its 1 billion dollar acquisition by Gillette's parent company Unilever in 2016.

2. BarkBox - The box that launched a $150M a year company
The petcare brand that boasts to have served 2 million dogs feature treats and toys by focussing on a single product and selling channel - a subscription-based BarkBox.
Mike Meeker, co-founder, who started the company as a side project picked up on a key trend: dog owners love sharing social media posts about them. They leveraged this trend as a marketing opportunity to build the brand and create the experience.
BarkBox leaned into the trend by designing a highly emotional and personalized experience for their subscription holders, which has contributed to their growth to over 600,000 customers.
This has ensured subscription holders feel special by providing them curated monthly content and specially picked products. In addition, they've built a culture amongst its' members to use the opening of each box as a social media moment.
The brand leverage shoppers' social media posts to create brand awareness and sales channel by launching a referral program, discount on using certain hashtags and ability to feature coupon codes on viral content.


Source - Instagram
Brand Highlights
The company doesn't release detailed financials, but in early 2018 they claimed revenue growth of 70% year over year.
It boasts over 600,000 customers and a 95% retention rate.
Shipped 10M boxes and 70M toys since its 2011 founding.

3. Stitch Fix - Building a 2.9 million active user base
Stitch Fix has leveraged both art (style experts) and science (algorithms) to build its brand to almost 3 million customers that buy their personalized apparel and accessories subscription box service.
The brand leverages data science to deliver personalization at scale by combining data and machine learning with human expertise, transcending traditional brick-and-mortar and e-commerce retail experiences.
The sophistication of the algorithm has helped the firm accurately predict customer needs like what type of occasion, time until next purchase, etc. This has enabled the company to generate gross margins that are the envy of most specialty brands.


Source - Bloomberg Intelligence
Brand Highlights
Stitch Fix reported 2.9 million active customers in the last quarter of 2018, up 22 percent from 2017.
Since shipping its first box in 2011, its annual revenue has exploded to $1.2 billion and the site has added inventory from up to 700 brands.
100% of the revenue results directly from the personalized recommendations - which is the core of the business model.
Be on the lookout for our next blog where we'll profile 3 more exciting DNVBs that are redefining the retail landscape.