Incisiv hosted two Virtual Happy Hours with 18+ technology executives last week to discuss how they are adapting their marketing and sales strategies during a time no one wants to be sold or marketed to.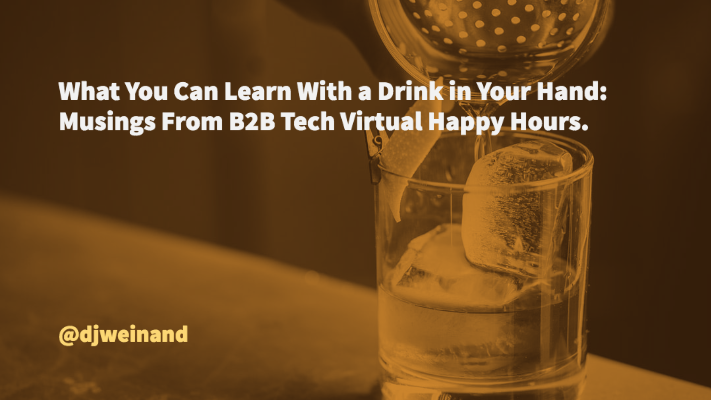 If one thing was clear during Incisiv's two Virtual Happy Hours with 18 or so technology executives last week, it was that the roadmap to market, sell or communicate to customers and prospects during this crisis does not exist.
Feedback from the group of service and solution providers serving retail, consumer goods, hospitality and other consumer industries, was that while it's only been weeks since this all started, it clearly feels like we've been in deep quarantine for months. And the impact on business has been swift and severe. Yes, I'm stating the obvious but I had to include for context.
The group that joined spanned the entire spectrum of sizes and solutions - from start-up to enterprise, from point solutions to managed services and everything in between. Even with this broad disparity, several key approaches were in common:
This is not the time to sell - There was a general consensus that tonality is critical right now and even if a provider has a solution that can help, a direct approach is not the way to go. Many of participants stated this but are still struggling with how to strike the balance between the generic 'we're here to help' message and the direct sales approach from even 30 days ago.
Connection is necessary on a different level - No one has been left untouched in this crisis so communication and marketing needs to happen on a personal level vs. a company level. Several of the participants have doubled down on ABM efforts and are leveraging 1:1 relationships to strike the right tonality (see above) at the personal level.
Getting personal in the digital realm - Many of the participants previously relied heavily on events for relationship building, pipeline development and marketing and as that has evaporated in a matter of weeks, most are struggling with how to adapt. We discussed how content will be critical but to get personal it has to be delivered in ways to encourage discussion. Webinars will become the 'go-to' tactic but things like closed door digital roundtable discussions can be more effective, depending on the goal.
With 18 or so companies represented, there were also several areas where challenges differed. (If you're a software company whose primary target is apparel/specialty or a services company that targets grocery, you're looking through a very different lens right now). Below are some insights we noted and the company type they came from:
Pivot your target (Start-up) - While solutions could focus on a particular sub-vertical (e.g. Apparel), it doesn't mean you can't pivot the application to add value to FMCG - where business is humming.
Keep developing (Mid-sized software) - Take this time to devote resources to accelerating your product roadmap. Get things aligned so that when the crisis shows signs of abating, you have the right solutions for the market.
Help clients & prospect for free (Enterprise software) - Offer a service or piece of software that can deliver short term value (e.g. BOPIS in 30 days) that will generate goodwill now and a lifelong client later.
This is all still very new to all of us and answers are not easy to come by. Our discussions went well past our scheduled times both nights and we really didn't scratch the service (other than determining some really good WFH hacks that are being deployed). We'll be continuing these discussions throughout April (at the least) and will keep the world posted as we dig deeper into how the consumer industry technology ecosystem is addressing the 'new normal'.