The retail industry is poised to make the greatest increase for in-store investments since 2007. Even with these planned increases, most retailers still lag shopper expectations. We got together in a fireside chat with retailers and technology providers to identify creative solutions to eliminate gaps and drive the Renaissance of the Store of 2019.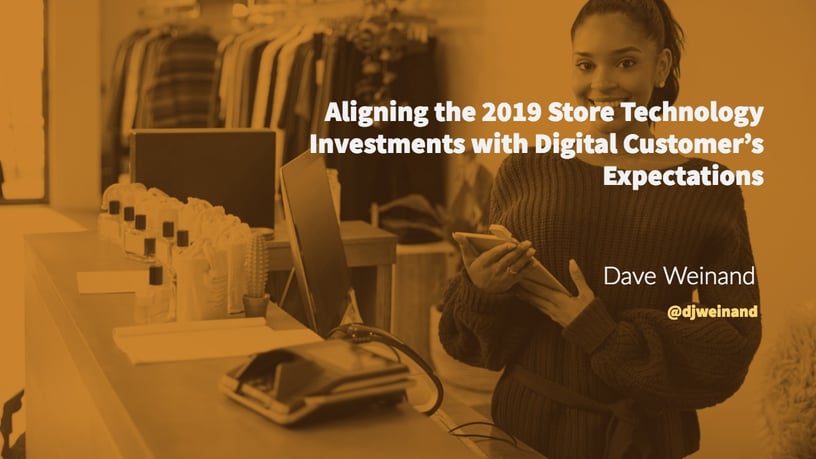 Digital influence on retail sales will be close to 60% in 2019. As the industry continues to feel the impact of digital, retailers appear to be reacting with planned budget increases of 5%+ for in-store investments. Product availability, shopper convenience, immersive marketing, customer insights and operational readiness are 2019 retailer priorities driving investment in the store.
Featured in This Exclusive Fireside Chat

Phillip Hartfield
Vice President - Retail Industry Marketing
AT&T


Kasey Lobaugh
Principal - Chief Retail Innovation Officer
Deloitte


Dave Weinand
Chief Customer Officer
Incisiv


Dave. In your opinion, what are the primary drivers of the healthy planned increases in store technology and store design?

Phillip. As digital influence over retail sales continues to increase, so do shopper expectations. The customer desire for more accommodating and digitally savvy store experiences is motivating retailers to increase their store-level investments by 5%+.
Retailers are adopting emerging technologies to gain more insights about consumers, and to close the gap between the digital and physical worlds. Personalization and convenience are becoming necessities to enable a tailored shopping experience.

Kasey. There is a significant disruption that continues to occur in retail, causing an increase in competitive pressure. Technology is advancing at an increasing speed which in turn has been radically reducing barriers to entry and reducing switching costs, inviting new entrants and in turn providing consumers with more options than ever. This has resulted in increased fragmentation of consumer spend, decreased loyalty and a change in overall expectations. Retailers are aggressively investing in this battle for consumer attention and market share. This increased competitive pace has been good for consumers and revealed a new set of winners and losers in the market. However, it hasn't been great news for retailers as it requires an aggressive approach to innovation, but has also eroded the financial returns for the industry. As retailers have invested in new technological assets to compete, the overall industry has seen plummeting return on asset, a measure of asset productivity. The winners will invest to remain relevant, but face increased pressure to do so in a way that maximizes return.
----

Dave. More than 60% of retailers plan to invest in store customer-facing technologies in 2019. They will prioritize applications around inventory visibility and improving omnichannel experiences and engagement. In your opinion, what role do customer analytics/insights play in ensuring a return from these investments?

Kasey. Data is key! Just as we've known for the last 20 years in the digital channels, data provides a level of precision and insights into consumer behavior that we've never had in the traditional physical channels. As technology penetration in the store continues and the cost of technology continued to decrease, retailers need to adopt the same data and insight-driven approaches that have driven growth and insight in the e-commerce channel.

Phillip. Well said Kasey. Customer analytics/insights help retailers begin to develop a 360-degree consumer profile before, during and after the shopping journey (including the online channel). Having these insights assists with order management, inventory control and product availability, all while allowing them to understand the effectiveness of marketing campaigns. Another benefit is being able to utilize this data to assist with future store designs and floor plan layout. Leveraging data, retailers are delivering increasingly personalized experiences. These experiences are creating emotional connections between consumers and brands, driving intense loyalty, higher customer retention and acquisition.
----

Dave. Despite significant planned increases in store investment in 2019, many retailers will still lag their target customers expectations, especially if they target Millennial and Gen Z. Do you believe this is due to execution gaps in implementing new digital experiences or is it due to the fact that digital leaders such as Amazon and WalMart are setting customer expectations most retailers can't attain?

Phillip. The answer is multifaceted. First, retailers must understand the changing demographics among their targeted customer segments and the various levels of digital engagement that appeal to each. Once a brand truly understands their customer's expectations, emerging technologies are widely available to deliver a variety of immersive and personalized experiences. Knowing when and how to implement these solutions and understanding business impact is critical to building a brand-specific transformational roadmap. Industry-leading retailers have a near and long-term vision for digital transformation that aligns with evolving customer expectations - and are maniacal about analyzing, evolving and executing on that vision month-over-month and year-over-year.

Kasey. It's a difficult catch 22, especially for publicly traded retailers. While we know technology is critical to retail today, the road is littered with technology implementations that never lived up to their planned benefits. You have to put yourself in the CFOs shoes and recognize that the industry is facing significant and mounting pressure on margins, driven by rising wages and increased shipping costs amongst other things. Further, with an already declining return on assets metrics, it makes it incredibly difficult to ramp up technology spending. You need to recognize the increased competitive pressures are up against the increased financial constraints. As these pressures come up against each other, a logical gap begins to emerge between what a retailer might want to do, and what they actually have the flexibility to do.
----

Dave. "Purchase of Costa Coffee by Coca Cola, Teslan and Walmart collaboration, Alibaba and Kroger partnership, etc." The retail behemoths are expanding their ecosystem to learn from innovators and to build synergies to elevate the customer experience. In your opinion what are the most important strategies retailers should be implementing to ensure they can compete with their larger, better-financed rivals?

Kasey. We continue to help our clients use data and specifically customer analytics. Through Deloitte's Center for Consumer Insights, we are helping retailers to better identify what really matters to their customers, and where pockets of opportunity exist to meet customer needs or demands in a way that competition is failing to deliver. Often, this means getting much more granular and diverse in offerings. We think this approach is critical in how retailers compete! As Sam Walton would say, "Go where they ain't".

Phillip. Simply put, define your brand identity and exceed your customer's expectations. For any retailer, intense focus on understanding and preempting customer expectations within a targeted demographic is critical to success. As we know, in Retail "one size does not fit all". Once retailers truly grasp how their customers want to interact with their unique brand, this knowledge guides focused investment for digital transformation - investments that prioritize spending to deliver the greatest impact to customer experience tailored to a specific brand identity.
As Kasey pointed out, the use of technology tools such as analytics, Artificial Intelligence (AI), digital contact centers, and demographic recognition capability are several of the solutions that are helping to foster how retailers understand their current customer base. They can also determine which customer segments to target for future growth.
----

Dave. According to the study, emerging technologies including IoT and AR/VR seem to be at a tipping point for retailers in the store. What do you see as the most meaningful applications for these technologies in the store environment?

Phillip. Key use cases of IoT for retailers include supply chain management, consumer analytics and smart-store applications. With IoT, we can now understand the context (the time and the place of the customer) to identify when a customer needs assistance or an incentive to purchase, and we can respond proactively. The differentiation with IoT will come from a retailer's ability to sense, understand and act on IoT data with analytics.
With AR/VR there are many retail brands at the forefront of harnessing the power of AR and how it can enhance the brand experience. To help inspire you, retailers are using AR to empower their customers, create a more interactive shopping experience, and highlight specific products. AR applications for virtual store content and layout, magic mirror for cosmetics, clothing and other virtual apparel are just a few examples of key AR/VR solutions. Some home improvement stores also use AR paired with geolocation technology for their mobile app-powered in-store experience to be the first at indoor mapping using augmented reality. Further, 5G and multi-access edge computer (MEC) will accelerate innovation in delivering inspirational and immersive enterprise AR/VR experiences.

Kasey. Phillip pointed out some great examples. We see application of these technologies both to the shopper journey:
Customer welcome to Store
Customer specific advertising using facial recognition, beacons, or video analytics
AR/VR for product information and fit and size content details
Frictionless checkout (not stopping at check out)
And to the Store associate journey:
In/Out of stock visibility
Visual merchandising
Task management
Customer service
Benefits to the retailer can be broad, including amongst other things:
Better consumer information about traffic and digital traffic connections
Improvement in the visibility of inventory coming into and out of the story
Connected visibility of inventory throughout the supply chain, improving demand signals
Improvement in store manager and associates' ability to manage labor cost, time and task, and improving customer experience.