Customer experience is intricately linked to, reliant on and powered by retailers' frontline associates. Why, then, do retailers struggle to empower them with the right tools, training and incentives?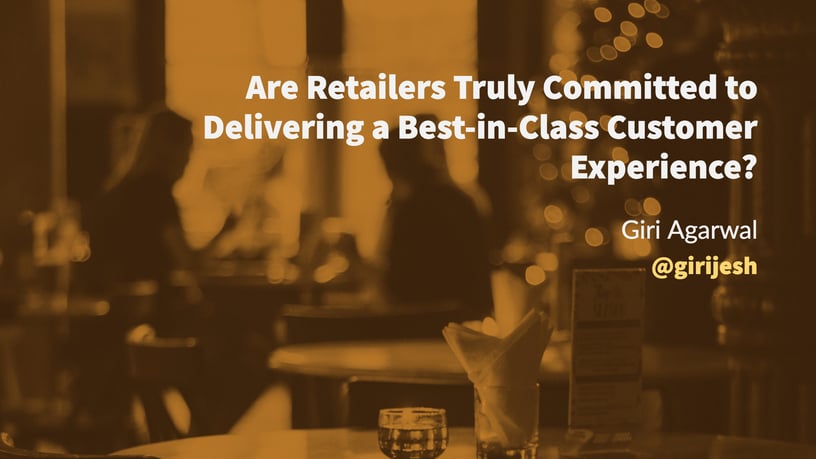 Legacy retailers (those with operations pre-dating the rapid rise of ecommerce in the early 2000s) now have close to two decades worth of experience responding to "digital disruption". Their first response was to be open for business on their digital channels, which most now are. Next, they focused on being more efficient by integrating operations across channels. And now, there seems to be the realization that it is all about the customer experience.
Customer experience is intricately linked to, reliant on and powered by retailers' frontline associates. However, legacy retailers have typically not prioritized investments in their frontline. Even Starbucks, oft-cited as a digital leader, is only now narrowing the gap between customer experience and employee empowerment.
I sat down with Gianluca Marcellino (Global Retail Industry Programme Manager, Avanade) and Gaurav Pant (Chief Insights Officer, Incisiv) for a candid chat about whether legacy retailers are simply paying lip service to empowering their workforce; and if so - why?
Featured in This Exclusive Fireside Chat

Giri Agarwal
Chief Strategy Officer
Incisiv

Gianluca Marcellino
Global Retail Industry Programme Manager
Avanade
Gaurav Pant
Chief Insights Officer
Incisiv

Giri. Let's start with your thoughts on the above characterization of legacy retailers' transformation journey. What does the "age of customer experience" mean in terms of retailers' expectations from their frontline associates?

Gianluca. Most complex customer experiences still end up with a frontline associate - be it in person in a store or remotely with a support center. Further, omnichannel customer experience requires new processes and incentives (such as returns, or after-sales support). Retailers soon find out they are asking a lot of their frontline associates; especially of their in-store associates.
Now, as stores focus on offering experiences above and beyond transactions (think museums, or theme parks) the demand being placed on in-store frontline personnel becomes even stronger. They become a combination of brand ambassadors, product evangelists and support advisors - a leap too big to make for most frontline employees without adequate support.

Gaurav. Not only do the most complex customer experiences end up with the frontline associates, the most memorable ones do as well. Retailers' expectations from the associate in this new normal are straightforward: deliver consistently on omnichannel processes, handle the multiple exceptions that will occur, and do so with a smile. But, that's just one part of the issue. While processes, procedures, systems and training are absolutely critical to this evolution, they will only get you so far. Building a culture of trust with associates is the really hard part. If this is the "age of customer experience", then it also must be the "age of associate empathy and empowerment". Not enough retailers commit to this correlation.
----

Giri. Online pure plays built their model around a better customer experience. Quite a few are now ready to extend and deliver that experience via stores. If you consider the likes of Birchbox, Bonobos, Warby Parker, Rent the Runway or M Gemi, why is the customer experience at digital-first retailers better? How are they enabling or empowering their employees in ways that legacy retailers are not?

Gianluca. I see three key components here:
Most online retailers were born with a customer-accommodating culture. Legacy retailers come from a very different place. Consider returns: for decades, store policies were based on hoops the client had to jump through before returning what had been bought. Changing this in an established store chain requires as much cultural management as operational sensitivity - and careful management of the impact to the bottom line.
Online retailers open stores as an extension, so that they can focus on this new, value-added experience dimension. It is so much easier to experiment and play with a new channel than it is with your business' lifeblood.
Online retailers hire personnel anew for this, so they can build a team for the very purpose of offering a great customer experience. Traditional retailers have optimized their workforce for decades as a cost to control. Their most experienced and street-wise people in their frontline have honed cost-control skills above all, in some cases even above sales.
I believe each of these factors is more significant and impactful than traditional or innovative technology enablement.

Gaurav. I think Gianluca has covered the core points pretty well, I'll just add a couple.
I don't think digital-first retailers have a necessarily better customer experience. They have a different experience. Digital-first brands are betting on a shift in customer behavior with different business models compared to traditional retailers. Their stores help as showrooms, fulfilment centers or experience hubs. I am very curious to see what will happen at Whole Foods - Amazon because that is an example of a digital-physical mashup, at scale.
The biggest difference between digital-first and traditional retailers is their appreciation and use of data. A digital-first brand lives and breathes data and uses it to tune each part of the customer experience. The analyze-test-learn-tune mantra that they use to optimize their digital channels finds its way to the store as their customer experience extends beyond digital. This translates to empowering associates with insights to drive the business-model. By letting associates know that a new lipstick trial is a high Customer Lifetime Value (CLV) and Net Promoter Score (NPS) play, or that a free mascara top-up is a 2x visit driver, they can get associates to focus on behaviors that matter most.
----

Giri. As Gianluca mentioned before, legacy retailers have conditioned themselves over decades of efficiency-centric retailing to treat staff as a cost to contain. But, we hear all this hoopla about empowering store associates with technology and expect them to suddenly become master brand ambassadors. Yet - fundamental things seem to remain unaddressed. Are they treated fairly? Trained enough? Paid well? What evidence do we have of legacy retailers that successfully overturn traditional disempowering workforce management dynamics?

Gianluca. What we know for sure, from our work with various retailers and our innovation lab sessions with them around Unified In-Store Associate Experience during NRF 2018, is that retailers are keenly aware of this challenge now, with some working on it already and others planning to.
Employee empowerment is a cultural challenge, not a technology limitation. In fact, some retailers embrace technology change readily, but limit its impact by not changing their disempowering culture. For instance, one of our clients implemented a full suite of Digital Employee Experience technology. However, concerned that allowing peer-to-peer messaging would lead to greater risk (for instance through messages inappropriate for the workplace), they have actively made it difficult for their staff to collaborate digitally.
More generally, many retailers do ask from some of their staff a very high willingness to change or extend shifts, and defer breaks. This highlights a sharp win-lose trade off between personnel engagement and staffing costs - which the gig economy is making even stronger. The fact that retail is among the industries worried about minimum wage discussions is a stark, sobering reminder of the deep financial implications of workforce empowerment.
Another relevant point is the importance of a business case for the cultural and process transformation that innovation requires. In Italy, where I come from, the latest comprehensive survey of Retail innovation, ranks high among issues that it is difficult to build and manage a business case for innovation. A similar concern about unclear ROI is clear from our research with 120 retailers in selected key countries worldwide.

Gaurav. As things stand today, associates can't be all that retailers expect them to be because the business model doesn't support it. While retailers are investing in training, healthcare, and education for associates, labor cost is still an optimization problem for them. This means that either efficiency or cost will be squeezed. This will drive the move towards greater automation and robotics.
Starbucks and Costco are good examples of brands that have always focused on associate empowerment as the primary enabler of a great customer experience. As far as retailers in transition go, Target has a good culture and with their new investment in stores they are moving forward on this path; as is Walmart through investments in new technology and workforce empowerment to enable their omnichannel experience.
I recently had the opportunity to hear Costco co-founder Jim Sinegal challenge retailers to "turn your inventory, not your people". As we've learnt from the Toys"R"Us debacle, it isn't that retailers don't know what to do, it is that changing organizational culture is hard. And, when you have decades of history doing things a certain way, it is next to impossible unless driven from the very top.

Giri. Gaurav, it is interesting you mention Costco. At the height of the recession in 2008, the average hourly wage at Costco was $19, and 86% of Costco employees (half of them part-time) received healthcare coverage. Costco's annual employee turnover is 6% in an industry that averages close to 70%. Retailers must include a complete re-evaluation of how they treat their employees as part of redefining their customer experience. Failing to do so is akin to promising a luxury resort experience at a budget motel.
----

Giri. Amazon is effectively able to borrow infinite capital at effectively zero rate. So, not only are legacy retailers faced with all the systemic issues we discussed above, they face a ruthless competitor with resources to outspend them forever. While this could be the subject worthy of an entire book, what are your thoughts on how do retailers compete?

Gianluca. A few years ago retailers large and small openly questioned the potential impact of digital commerce and online pureplays in their particular market segment: it was so small then! That impact is obvious now, and most large retailers are very actively addressing it, as Gaurav just described. Still, extrapolating the current trend may turn out almost as unrealistic tomorrow as it was then.
Legacy retailers must go back to their roots, rediscover why shoppers value(d) them in the first place, and strive to become the best on those value dimension(s). Even the largest brick and mortar retailers have the opportunity to look at themselves as niche players in certain categories where they excel (their online revenue and growth rate is smaller compared to online competitors), and innovate in ways similar to what we expect from much smaller companies such as farm-to-table grocers or bespoke tailors and shoemakers.

Gaurav. You can't outspend them, but you can outmaneuver them. Legacy retailers are the underdog in this fight, and the surest way for them to go out of business is to follow the path to ruin that Amazon has laid out for everyone: sell undifferentiated merchandise, drop prices, offer free or unprofitable shipping. To compete effectively requires a few fundamental things. Your product or experience has to be differentiated. A fanatical pursuit of customer insights – you have to know your customer better than Amazon. Creativity in marketing and strategy because you can't compete on large advertising buys and discounts (it is money down the drain). And finally, a "Fellowship of the Willing" with strategic partners that can help you learn and adapt to whatever is thrown at your business model.
----

Giri. With a renewed focus on their raison d'être and a desire to aggressively eliminate friction from the customer experience, legacy retailers are redefining the role of their frontline associates, asking them to be knowledgeable category experts, masterful relationship builders, amazing customer service agents and more. Clearly technology has a role to play in enabling this transformation. However, retailers must first address deep-rooted cultural issues related to what they have traditionally perceived the role of their frontline workforce to be, and how they have treated them.