Incisiv will host its underwhelming annual event "9th and Digital" at a WeWork event space in Flatiron, NYC.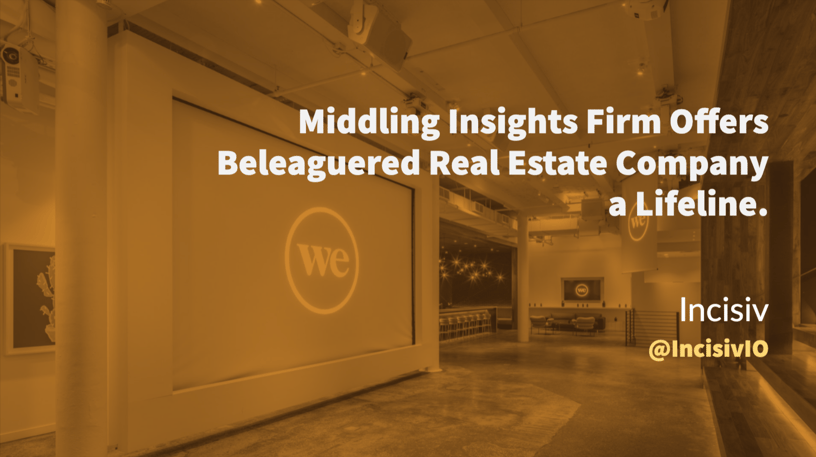 Tech Real Estate firm WeWork has been in the news for worryingly weak WiFi security. A shared WiFi password across locations easily accessible for anyone to see? Criminal.
It's also experienced some minor speedbumps recently. We're talking standard-issue growing pains of a Silicon Valley unicorn: a fraudulent founder-CEO having to step down, a withdrawn IPO filing, and a culture-redefining four-beer limit on its once-bottomless kegs. The terrain felt so familiar, Dara Khosrowshahi was seen scent-marking the CEO's office. Scottish law firm Minson-Gunningham has been retained to help hire a new CEO.
Incisiv, an insights firm that helps clients confirm biases, has been searching for the perfect location to host their inaugural oh-so-cleverly named event. According to Dave Weinand, Chiefly Diverse Officer at Incisiv, "9th and Digital is an exclusive, invite-only peer-to-peer sharing experience for our most strategic clients, executive-council members and classically trained mime artists. We're not just looking for a space for an event, we're looking for its…….home. We will not compromise on our standards".
It, therefore, surprised many when news leaked that Incisiv had chosen a WeWork location in Flatiron, NYC to host the event. For a firm that has, once, stood up for what it believes in, this was an opportunity to double its sense of self-worth.
Confronted with some tough questions about their tone-deaf choice, Weinand opened up about the firm's thinking, "The place was so purrtty! And, no one else would have us!". He also clarified via a follow-up email that his previous statement about not compromising applied to Incisiv's standards, not its values.
Incisiv's chief provocateur Giri Agarwal took a decidedly more aggressive tone. "It would be irresponsible on our part to not host with WeWork. This whole Adam Neumann saga is like watching an ape at a zoo eat his own shit and then fling the double-filtered feces at onlookers. You know it's very wrong. But, you also admire its creativity and audaciousness".
Pushed to provide a definitive reason for their obviously questionable decision, Agarwal finally relented when asked a third time.
"Rick Perry made us do it".