Smart use of mobile technologies can help retailers make store managers and associates more efficient, effective and productive in performing both customer-facing and operational tasks. Our panel of experts bust 10 myths that may prevent retailers from realizing these benefits.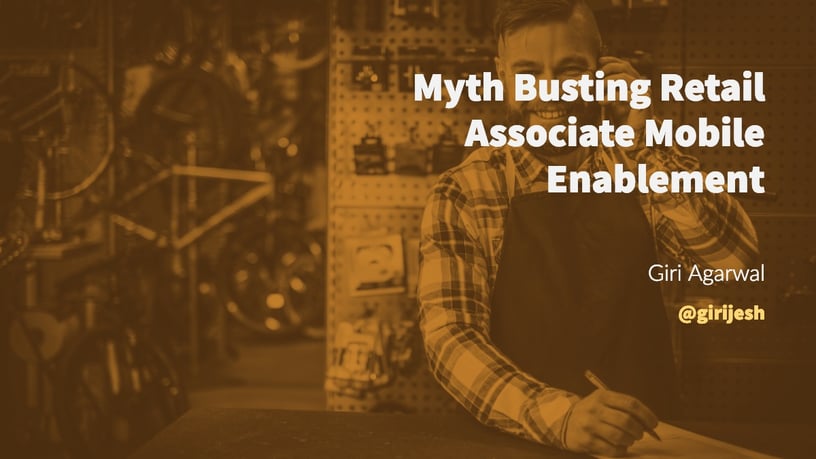 Featured in This Exclusive Fireside Chat
#1 "We don't need to spend on this now."
Investments in customer experience and other "make-the-promise" technologies often take precedence over the "keep-the-promise" value of frontline enablement.

Ananda. Associates are the frontline ambassadors, as well as the backend managers, of operations for a retail store. It is in the business' best interest to equip them with the right tools and technology to deliver on the desired customer outcomes.

Adam. Overcoming tech debt challenges to invest in associate enablement technology is key to remaining competitive in the future.
#2 "It's too difficult."
Change, of any kind, is hard. This one involves changing workflows, potentially large capital investment and a re-wiring of the technical debt.

Brandon. Legacy infrastructure, limited integration between systems, and siloed operations are challenges related with associate enablement today. But, most retailers transitioning to a "perfect omnichannel model" are able to solve these by making the right technology investments.

Ricardo. It absolutely isn't the case that it is too difficult. The real question is how well prepared the retailer is to overcome the very real challenges that do exist. Retailers can use microservices or find solutions that work with their existing legacy systems.
#3 "There is no clear ROI."
The costs associated with mobile enabling store associates are sometimes clearer than the value of doing so.

Giri. Putting aside any other benefits of mobile enabling retail associates, a retailer can increase sales and profit 10% by reducing turnover, increasing employee engagement and maximizing demand fulfillment.

Adam. The future is connecting every retail associate to a single network to gain the ability to measure ROI across channels. This will help optimize tools and training based on personal needs and grow return further.
#4 "Everyone knows how to use an iPad."
Smartphones and tablets were designed to be easy-to-use.

Ricardo. Associates not only need training on the mobile device, but on how to engage with a customer while using it. Most mobile associate enablement initiatives that fail are due to no training or a poor user experience.

Giri. Enterprise software isn't exactly the Gold Standard for user experience. Retailers will have to work doubly hard to make sure they aren't just turning enterprise apps on mobile devices without rethinking the entire experience ground-up.
#5 "Our shoppers aren't digitally savvy."
Retailers in specific categories such as convenience, grocery, and off-price retail have experienced growth without perceivable digital behavior from their shoppers.

Brandon. Today's consumers are connected, informed and empowered through their digital interactions with brands. Their expectations are shaped not only by competing retail brands, but also digital companies and experiences across industries.

Ananda. Digital retail is more than table stakes today, it is inherent. The level of digital engagement of generation Z across different areas of life is illustrative of their future needs as digital consumers.
#6 "Wi-Fi makes all problems go away."
Wi-Fi has attained utility like status. Shoppers expect retail stores to have Wi-Fi, just as they do electricity.

Ricardo. Customer experience depends on the ability of the network to access data outside the store through the associate's mobile device and other in-store digital capabilities, rather than just high-speed Wi-Fi which is only an access point.

Giri. It is important to derive insights from the customer Wi-Fi and funnel them back into the strategy, while ensuring it is implemented properly and securely.
#7 "Our associates aren't digital savvy."
Store associates use some of the most outdated and archaic technology in stores. A combination of inertia and a lack of understanding of their changing workforce may have retailers believe their frontline workforce isn't as digitally savvy as their shoppers.

Ananda. Every associate is also a digital being in other parts of their lives. Their daily experience with technology drives their workplace technology expectations.

Adam. 72% of associates are more likely to stay with a brand if they are provided with the tools and training to enhance their job. And 2 out 3 say it is a must have at a future job.
#8 "It won't happen to me."
There are those who have been breached, and those who don't know they have.

Ricardo. A retailer can never be 100% safe from a data breach today as most data is being accessed by a large workforce. But, it is important to not compromise the security of data for a great customer experience.

Brandon. Your shoppers trust you with their data. Protecting that trust is key to building a valuable relationship with them. Once that trust is lost, it is extremely difficult to recover.
#9 "In-store digital initiatives mean increased labor cost."
Digital in-store initiatives mean greater operational complexity - more volume, variety, and velocity of tasks.

Adam. Some retailers are in-fact exploring how to use mobile technologies to reduce store labor cost. Whether a digital initiative increases labor cost depends on what the retailer wants to do, and what the initiative is.

Ananda. Per head cost of labor definitely increases when adding technology and providing training to use it. However, this is a short run cost in comparison to the long-term value, which is improved customer experience and increased workforce productivity.
#10 "All digital experiences are created equal."
Retailers have labor standards that tell them how efficiently a physical task - such as pick, pack & ship - is working. In the absence of a similar standard for digital experiences, they are flying blind into the unknown.

Brandon. Digital for digital's sake is not the right strategy. Those initiatives that add value to both the customer and the brand must be prioritized.

Ricardo. Across the multiple digital experiences driven in the store some are more critical than others to drive business value. But, the success of digital in-store initiatives depends on the ability of the network to prioritize key experiences over others and deliver consistent experiences across all use-cases each time.