The stakes have never been higher for retail and consumer products companies to improve their success rates with new product development. To address competitive and cost pressures, small to mid-sized companies should look to understand how Digital Twin technology can help their efforts.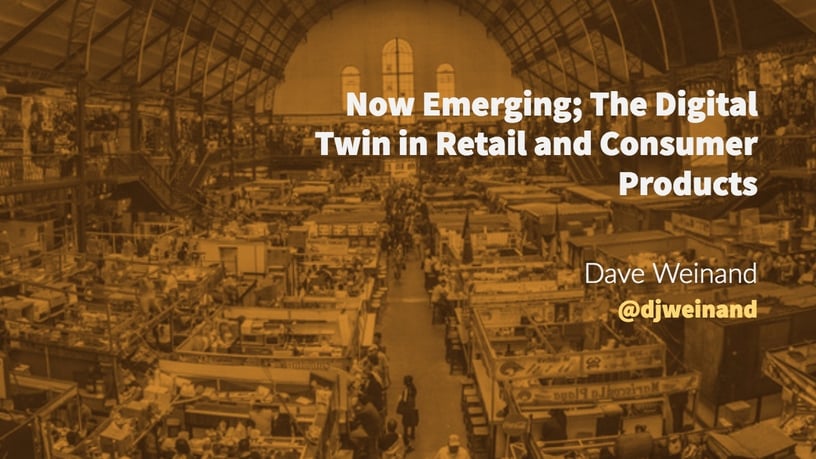 Digital's role in new product development – A priority for generating the now elusive "organic growth"
Today's world is said to be in the midst of the Fourth Industrial Revolution – one that goes far beyond manufacturing. Commonly known as Industry 4.0, it refers to the merger of production and operations techniques with smart digital technologies to create a digital enterprise that would not only be interconnected and autonomous but could communicate, analyze, and use data to drive further intelligent action back in the physical world.
It's a fait di complit that everything is moving faster, and in a classic chicken and egg scenario, I don't know what came first. Did fickle consumer habits cause retailers and manufacturers to have to speed up new product development and more choice? Or did market leaders, in their efforts to gain competitive advantage, help to alter consumer behavior to expect more options on a more frequent basis? Regardless of the answer, this is the world we live in, and retailers and manufacturers need to adapt.
Unfortunatively, failure rates for new products are still shockingly high and range anywhere from 70% to 90% in the consumer products space. That means for every high profile success such as Chobani, Dollar Shave Club or Beats, there are 7 to 9 failures that aren't discussed. In consumer products, these failures cause write downs and in specialty apparel, mark downs – big time margin erosion for both. Combine this with an increasingly difficult manufacturing environment due to tariffs and trade wars, and the margin for error is thin.
Product lifecycle management goes digital: The Digital Twin
Product lifecycle management (PLM) systems have been around a long time and have gained the most traction in more complex manufacturing processes. These systems have historically been complex and expensive to implement, hence a reluctance on the part of small to mid-sized companies to consider. However, as technology has advanced and we've hit upon the Industry 4.0 age, solutions have simplified and are within reach for many companies.
Part of the next generation of PLM includes a concept known as Digital Twin. The Digital Twin is a virtual replica of a physical asset (e.g. product) or process that connects to and receives data from the latter. Digital Twin technology enabled by real-world data simulates an actual operating environment and helps companies confidently understand, predict and optimize performance prior to physical deployment. While the concept has been in existence for over 15 years, advancements in computing speeds and storage has put it within reach for many more companies.
We conducted some research targeting the small to mid market retail and consumer products industries in the U.S., U.K. and Germany and found that more companies than we expected (70%) were aware of Digital Twin as a concept. However, only 25% truly understand all of the primary applications of the technology across PLM processes. Upon discovering this, we put together the following chart detailing where Digital Twin applies: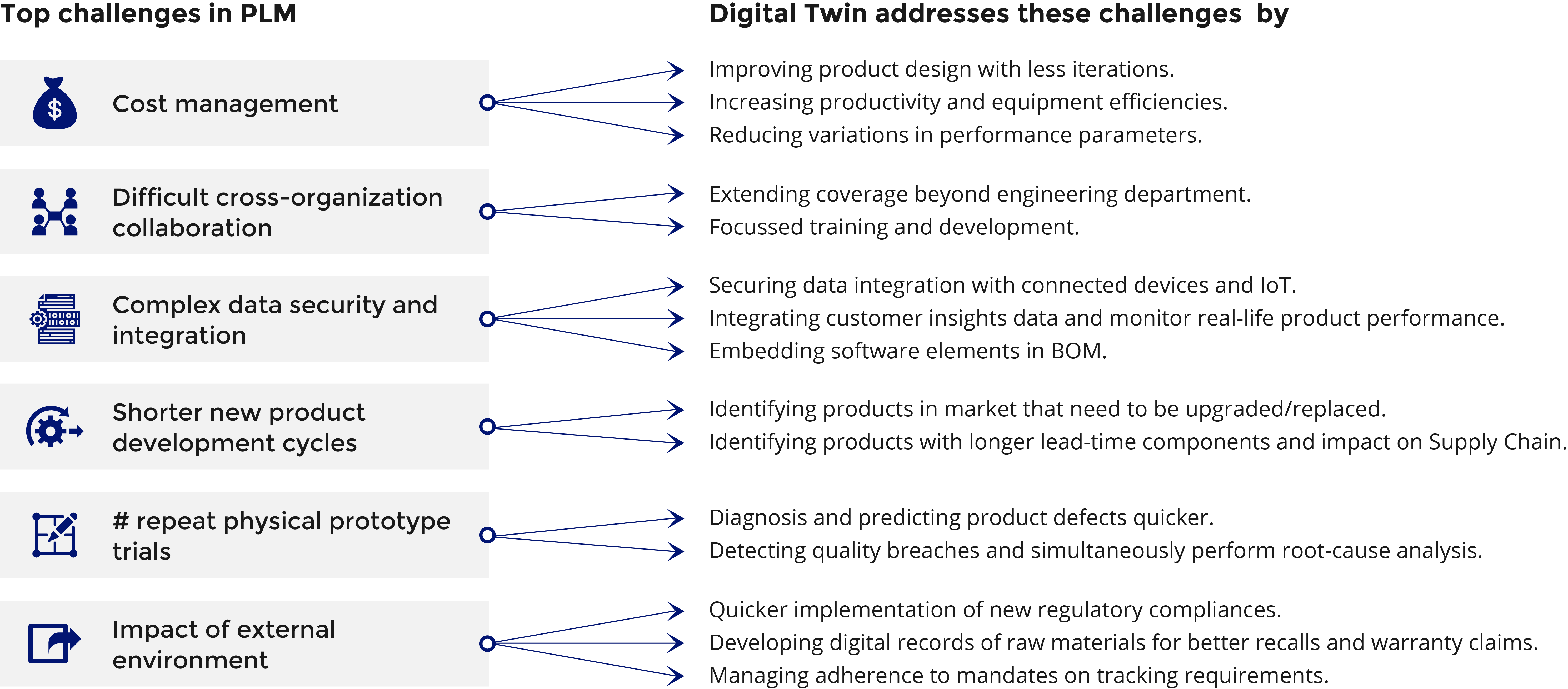 In breaking down those companies that understand the concept and its applications, more than 60% of the respondents across both regions saw significant value of the Digital Twin through all stages of the product lifecycle – production planning, preventative and proactive maintenance, process optimization, product design and product prototyping. For the few companies that we found applying Digital Twin to their processes, the benefits are compelling. For example, Asics, the Japanese sportswear manufacturer and retailer succeeded in reducing the number of physical prototypes (thus saving cost) and time needed for new product development by 30% to 35%.
While current adoption is low, it is clear that those companies that understand the concept and its applications are looking to pilot and/or adopt the technology in the next 12 months. 58% of both U.S. and U.K./Germany companies fall into these categories.
Digital transformation is happening at a blistering pace and new, nimble digital first companies are nipping at the heals of legacy players across the industry. Retailers and consumer products companies (that know and understand the importance of new product development) should educate themselves on emerging technologies like Digital Twin, and look to pilot the technology to cut time and expense out of the product development and manufacturing process. For more information on Digital Twin and the research, click here.