In this blog, we'll detail how ISVs and SIs can benefit from developing applications on a platform from an enterprise solutions provider.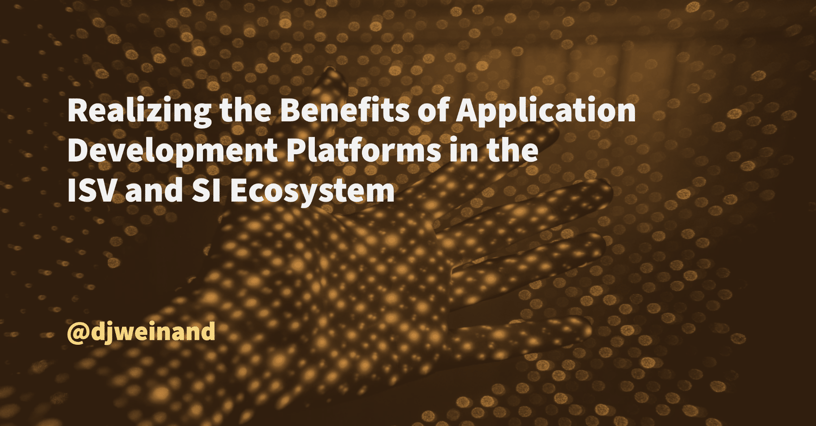 Part Three of Three-Part Series
The formation of strategic alliances of both independent software vendors (ISVs) and systems integrators (SIs) with the enterprise solution providers has been a critical component of their go-to-market model for years. Such partnerships drive market penetration and an ability to scale.
As discussed in first and second blogs in this series, application development platforms (ADPs) from enterprise solution providers are a way for ISVs and SIs to access a ready-to-use framework with the latest architecture & technologies to develop solutions for the industries they serve.
Specific industry solution segments, such as industrial internet of things (IIoT), have platform ecosystems that are more mature and have seen much higher adoption by the ISV and SI community. In these segments, the robustness of the ecosystem has enabled more rapid development and more solutions in the market.
Best-in-class application development platforms offer the required agility and ability to respond quickly to the dynamic business requirements across many industries. Key benefits based on our research include:
Lower cost of ownership: Applications built on an application development platform take less time to develop and deploy compared to doing it on their infrastructure. There are no upfront and capital costs involved for every new application, resulting in more business value.
Versatility and adaptiveness: All operations, such as application testing, security management, and change management are supported on a single platform that can quickly adapt to the changing market trends.
Enhanced agility: By partnering with application development platforms, software vendors can use complementary capabilities, leverage technical support, and deploy applications faster to market.
As ISVs and SIs consider partnering with an enterprise solutions provider on their ADP, they should look for the following features and functionalities:
Technical support: ISVs using newer technology architecture may not have technical expertise internally.
Flexible pricing model: A dynamic model such as usage-based pricing can help in reducing overhead costs associated with maintenance. For example, time and material engagement model bills the developers on an hourly rate. It offers flexibility to account for development peaks and lulls.
The breadth of domain APIs: Application development platform should offer a wide range of API's to build a robust portfolio. An open-source platform that can provide the domain API's for engineering, manufacturing, and IIoT will help software vendors in choosing the preferred application development platform.
Modern UX: With more resources shifting to cloud platforms, a platform must be easy to manage. As the complexity of the products increases in the cloud, ISVs and SIs should seek platforms offering the best management interface, including web UI and APIs.
Advanced integration capabilities: The platform should have a complete end-to-end integration, enabling ISVs and SIs with faster development and deployment options.
Additional parameters in choosing the right partner
ISVs and SIs should select a partner with a platform that caters to their business needs and enables better business outcomes. Beyond platform features/functions, one should look for:
Industry leadership: The platform provider should have expertise in developer's domains, be it engineering, manufacturing, production, supply chain, or operations. It gives access to the existing customer base of the application development platform provider in an already established ecosystem.
Cost advantages: The platform should considerably reduce the costs associated with training and onboarding, technical support, maintenance, and testing of the applications during the development lifecycle.
Automation capabilities: The platform should have built-in automation tools to troubleshoot, monitor, and detect data threats and eliminate the need for manual error testing at each stage of application development.
New customer acquisition capabilities: The application development platform should provide a marketplace for ISVs and SIs to sell their applications, thus creating overall value for all the stakeholders in the ecosystem.
The competition in the software industry is as fierce as it's ever been. ISVs and SIs need to take advantage of every possible tool to better their chances for success. While not every solution is right to develop on an application development platform, those that are can take advantage of the many benefits they offer. However, be sure to select the platform from an enterprise solution provider that provides the collaborative culture and other capabilities to ensure enhanced speed and flexibility in development and expanded channels for sales.
To access the research on the State of Application Development Platforms, click here.