As B2B buyers' expectations and behaviors change, enterprises have a tremendous opportunity to supercharge their commerce experience with convenience, innovation, and personalization.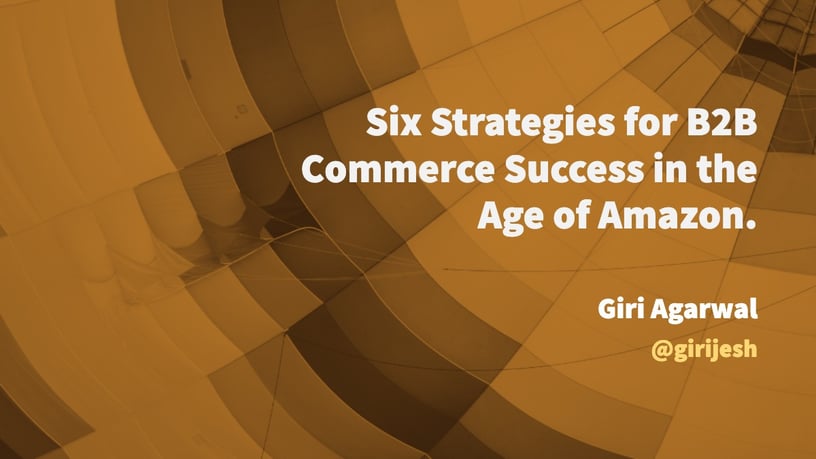 B2B buyers are woke. They are shifting more of their buying online (global B2B commerce sales are expected to reach $6.6 trillion by 2020), and in turn expect B2B commerce portals to offer them the convenience, engagement, and experience of leading consumer experiences (think Amazon, Netflix, Uber, Disney).
While B2C experiences are shaping buyer expectations, their application must take into account the specific intricacies and additional context of B2B buying/selling. B2B commerce must account for multi-enterprise, multi-entity, multi-stakeholder relationships. What a B2B buyer can buy at what price is a function of account-specific product catalog and pricing. Add roles, rules, and workflows, and you begin to appreciate the complexity.
An effective B2B commerce strategy must also take into account an enterprise's existing network of resellers, distributors and sales, and service teams. Managing channel complexity is a fundamental imperative for success.
Yes, B2B commerce expectations are being reset based on B2C experiences. No doubt B2B experiences must be mobile-first, device-agnostic, personalized and consistent across channels.
The real question is: Does your commerce strategy effectively define what that means for your enterprise, and does your commerce platform allow you to attack that opportunity with nuance and simplicity?
----
With HCL Software's recent acquisition of the erstwhile IBM WebSphere Commerce, I had the opportunity to pose some of these questions to a group of IBM experts, partners, and customers.
I've distilled key insights from my conversation with them into six areas. Each of these offers a specific and critical aspect that any B2B enterprise that is looking to transform their commerce experience must explore.
Featured in this Fireside Chat
#1 B2B Sales Transformation:
How Husqvarna Group Lowered its Cost-of-Sale through B2B eCommerce

Chip. The Husqvarna Group sells many different brands through many different sales channels. With all these different brands and channels we have different strategies on how to sell to customers. Husqvarna's Customers range from distributors to dealers, independent mom-and-pop shops to big retailers such as Lowe's and Walmart.
Amazon has set the benchmark for what a good customer experience is in B2B commerce. So, we are sharply focused on delivering on our omnichannel strategy - offering a seamless experience to customers regardless of the channel or touchpoint they interact with. Further, any time a customer calls into our customer service center to place an order, it costs Husqvarna $7 per transaction.
We have designed a highly customized, personalized portal that offers customers relevant information, including a personalized dashboard that makes it easy for our customers to order online.
Today, over 93% of all our orders are placed online, greatly reducing our cost of sales.
#2 Increasing Order Size:
How Husqvarna Group Drives Up-Sell Through Recommendations

Chip. Selling accessories to complement our core products is a key part of our eCommerce business case.
Our product pages offer rich product information, detailed specs and reviews (via integration with Bazaarvoice). We showcase key features of products via content and images. We've implemented digital analytics and recommendations which gives us the ability to upsell and cross-sell.
#3 Unifying B2B and B2C Experiences:
The Value of Serving B2B and B2C Experiences on a Single eCommerce Platform

Chip. Our strategy is omnichannel and all the websites (B2B, B2C, and B2E) run on the same WebSphere Commerce Platform. Due to this, the cost of ownership is lower and it easier to train and build enhancements, making the technology environment simpler and efficient for internal teams.
#4 Bringing Amazon-like Convenience to B2B Commerce:
How Husqvarna Group Saves its B2B Buyers Time

Chip. One of the key differences between B2B and B2C commerce is the size of the order. In B2B the order size can go up to many hundred order lines.
That's a lot of work for customers to enter their orders into the commerce platform. We've designed the ability for customers to upload a CSV or Excel file to enter their orders. We've integrated our commerce platform with our ERP system to be able to match the product and return available inventory.
Our customers appreciate that we've helped them reduce the time it takes them to place orders. On previous commerce systems, they would find the experience cumbersome. They would just give up on the site and have our service teams do it, which in turn would mean increased cost and lower profitability for us.
#5 Personalization:
Navigating the Intricacies of Personalization in B2B eCommerce

Anne. B2C customer experiences are driving customer expectations, even in B2B. 69% of B2B buyers expect an Amazon-like commerce experience. B2C is constantly pushing the envelope as far as customer experience is concerned. Personalization is the next big B2C commerce trend impacting B2B.

Scott. The big difference compared to B2C is the inherent complexity in B2B personalization: custom portals, custom pricing tables, specific catalogs and role-based access among other things.
For most of our clients, the availability of data isn't their biggest impediment to more effective personalization; the ability to use that data meaningfully is.

Anne. This additional context that B2B commerce has (organization, account, role etc.) is also an opportunity for enterprises to offer relevant content, offers, and actions.

Chip. We were able to deploy a highly customized hybrid customer portal by integrating our commerce and ERP platforms. This helped us personalize the experience for our buyers based on their role, as well as to provide real-time inventory information.
We can recommend additional products and services based on items in the buyers' cart.

Shiva. Keys to the success of a B2B site are the ability to offer contractor pricing, personalized promotions, and workflow engines and rules across different customer groups.
#6 Experience Innovation:
How Sonepar Uses the API-First Architecture of WebSphere Commerce to Build Omnichannel Experiences

Shiva. We are a leading distributor of electrical equipment with over 22 billion in annual revenue. We have grown via acquisitions, and have a wide range of companies - from $100 million to $800 million in annual revenue - that we support via a unified commerce platform.
One of our key goals is to deliver a consistent commerce experience across touchpoints and devices. To achieve this, we use the API-first architecture of our commerce platform to use the same core service across all platforms and channels.
An API-first approach allows business teams the ability to provide a seamless experience across channels, while the IT team also benefits by simplifying the code-base, lowering maintenance effort and cost.
----
On the one hand, B2C experiences will continue to redefine B2B commerce expectations. On the other, B2B commerce has unique intricacies that make the application of B2C commerce trends such as personalization very complex in the B2B context.
To succeed, enterprises need a commerce strategy and platform that helps them simplify this complexity by combining B2C and B2B capabilities on a single, API-first platform.