Voice Technology and Voice-Enabled Commerce is changing the way retailers go about their business and changing the way consumers shop. A new organization, Open Voice Network, is looking to "give everyone a voice" through the pursuit of standards for interoperability, accessibility, and data protection. Co-Founder Jon Stine shares his thoughts on the future of Voice in this week's Q&A Blog.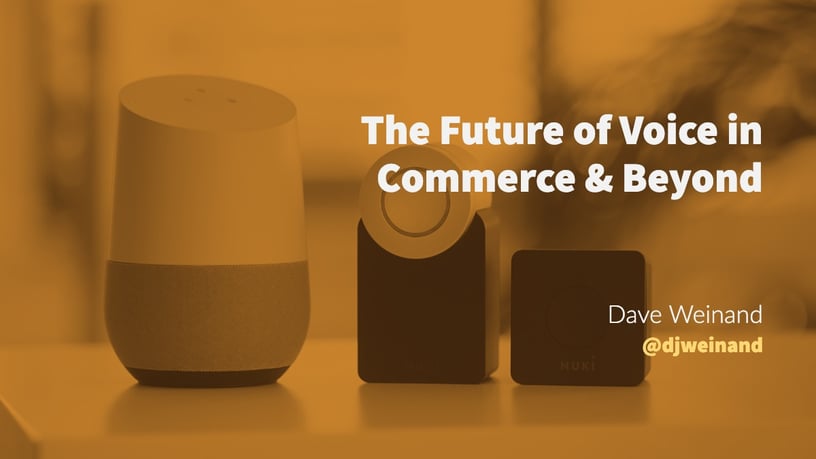 Featured in This Exclusive Fireside Chat

Dave Weinand
Chief Customer Officer
Incisiv


Jon Stine
Lead
The Open Voice Network


Dave. Voice Technology and Voice-Enabled Commerce has experienced significant growth in the last 18 months. Where do you see the biggest areas of adoption over the next 18-24 months?

Jon. Dave, that is a good place to start. What's exciting is that we're entering the first of many phases of enterprises creating value with AI-voice. A study published last month indicated that more than 60 percent of US marketers believe that voice be an extremely important or a significant marketing channel. Marketers have long talked about a brand tone or voice – and now they'll have one. However, most of the questions of sustainable value creation – questions of how, where, for whom, when, and how much – have yet to be broadly answered.
Over the next 18-24 months, I expect you'll find accelerating commerce adoption in two areas. The first will be the use of chatbots for service and call centers. Automated, 24x7 responses on topics such as store hours, store locations, product availability, order status, shipment status. The second will be the development of brand-specific voice assistants that not only address service issues, but enable transactions - often in teamwork with an app.
----

Dave. How important is the Artificial Intelligence (AI) aspect of voice-enabled technologies going to be to future applications?

Jon. It's absolutely essential. It's what drives language recognition, it's what drives contextual understanding. You can't do voice without doing artificial intelligence.
----

Dave. What are the primary considerations that corporations must factor in as they look to adopt Voice Technology?

Jon. Number one on my list would be the recognition that voice – whether we're talking voice-driven task management, call center chatbots, or a presence in the AI-voice assistant space – should not be seen as a separate channel. It's a new interface to the digital world – a new interface to the internet, a new interface to the world of IOT systems.
Your consumers will want to reach you via AI-voice. And you will want to reach your consumers via AI-voice. But once you reach each other, What will you say? How will you respond? What value will you provide? The novelty of connection alone will soon wear off.
Second, in commerce, voice has the potential of being the most convenient way of shopping ever. In the best case scenarios, all you have to do is say "yes" and a transaction is complete. The use of voice as an accelerant for automatic, ship-to-home – especially in FMCG – is clearly underway. The advice we are recommending to the industry is to place voice – and the potential impact of voice -- into the midst of your customer influence and support strategy. Map it into your shopper journeys.
----

Dave. Adoption of voice-enabled technologies at the consumer level, such as Amazon Alexa or Google Home, has also been rapid. However, stories persist that voice assistants, regardless of manufacturer, are 'listening in' and ultimately, privacy is being violated. Do you see this as a barrier to more widespread adoption of these devices?

Jon. Well, the devices have to listen in order to hear the activating "wake word." The issue is much more about data capture and data use. The user research suggests that this is a relatively minor issue – and thus, it's a minor (though real) barrier to adoption.
Make no mistake – there are significant privacy issues at play in AI-voice. Not only is it a biometric identifier, but detailed voice analysis can accurately identify emotional states, and mental and physical illness. These raise questions of data capture, data use, data storage, societal responsibility – on and on. These are the questions that we in the Open Voice Network are now addressing, and believe must be met through a combination of global standards, legislation, and regulation.
----

Dave. When one thinks of voice-enabled technologies, they think of the aforementioned voice assistants or chat bots. What are some other voice-enabled applications that companies should be looking at?

Jon. For years, I've loved the work of Theatro – using AI-voice for store and warehouse task management. An earpiece and microphone for the store associate, instead of a clipboard and sheet of paper, or a klugy tablet with an always-wearing-out battery.
I read recently that some 60 percent of all US jobs demand on-the-feet, work-with-the-hands effort; certainly that's the case in the store, and especially in this era of BOPIS and ship-from-store applications / tasks. Task management by voice makes so much sense and it is where I recommend retailers look at adopting immediately.
----

Dave. You co-founded the Open Voice Initiative. What is its charter?

Jon. Maybe it's accurate to say that I'm one of the founders – there were a lot of us.
Regarding our raison d'être:
We look at the today's AI-voice world, and we see explosive growth.
We see Impact today – and huge impact tomorrow – on the relationship between consumers and all consumer-facing industries, and especially in the retail and consumer goods industries.
And yet we see many of the same things we saw back in the days of the internet browser wars: no platform interoperability, no assured means of reaching the entities you wish to reach, no assurance of protection of personal and commercial data.
We're dedicated to creating an AI-voice world that's good for the many, as opposed to the few -- an AI-voice world that is open: standards-based, and thus interoperable, accessible, and data protected.
To make that happen, we intend to create a non-profit organization. Member monies will be used to fund ongoing research into the specifications and reference architectures for proposed standards, in raising industry awareness of the opportunities, value propositions, and challenges of voice, and in policy advocacy.
----

Dave. Why do you see this as important in the current maturity cycle of voice-enabled technologies?

Jon. Dave, we're in the earliest days of the AI-voice revolution – on our way to more than 8 billion operative voice assistants by 2023, versus the 3+ billion this year (a number which includes 100+ million Amazon smart speakers.) As noted earlier, we're in the early days of brand usage and experimentation with voice. The time is right to drive toward open AI-voice.
----

Dave. How can people get more information on the Initiative?

Jon. Call or write Jon Stine (jon.stine@openvoicenetwork.org, +1 503 449 4628.) Visit our web site: www.openvoicenetwork.org. Read our white paper.