While many of the well-established leaders in the digital space had a presence at Shop.org, the more exciting component was seeing the small and mid-sized 'start-ups' that are out to disrupt the way things have typically been done.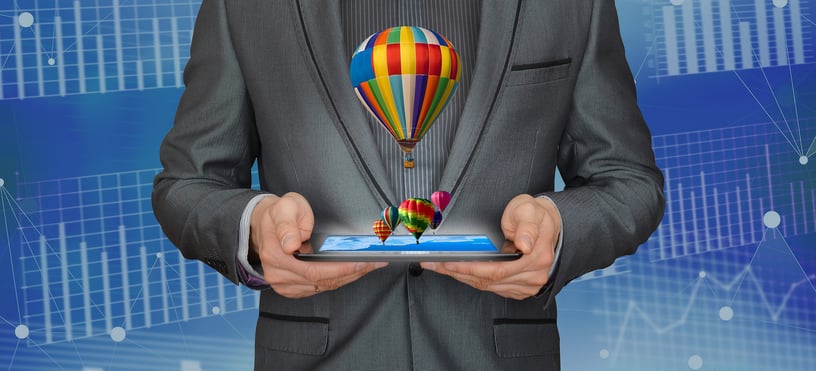 In the massive surge to reinvent retail, one thing remains clear; there is a TON of money out there funding start-ups targeting the industry. Even with the crazy hype surrounding the 'retail apocalypse' earlier this year, things have not slowed with companies promising to improve customer engagement, satisfaction, and loyalty. Nor have they slowed in store-based solutions. In a matter of months, messaging has gone from the death of the store to the store being the only true differentiator. A few months back, CB Insights posted the following infographic below on 150+ startups targeting brick & mortar.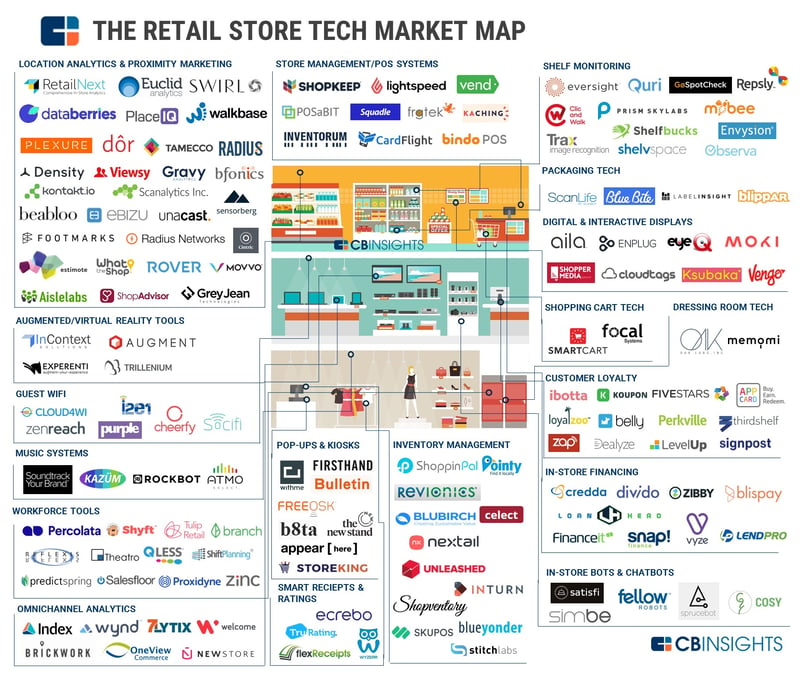 While some of the big boys like Oracle, IBM, Salesforce, and SAP (Hybris) were there, the exhibit floor was filled with small and mid-sized 'start-ups' that are out to disrupt the way things have typically been done. Below are a few of the 'building' companies I found particularly interesting:

Retail marketing technologies and more specifically, location-based marketing companies, are a dime a dozen. BlueFox fits into this category and therefore could be viewed as a me-too company. They offer a series of plug-and-play hardware units that offer a client-defined range that can count in-store traffic (for use in prioritizing labor) or out of store traffic (to deliver promotions). What I did find interesting, however, is that they eliminate the need for the retailer app or to have Bluetooth enabled in order to count customers or deliver messages/promotions. I see this as enhancing adoption rates from customers.

This company was in the TechLab section of the floor and what I found so refreshing is its pure simplicity. In our current environment of highly complex technology, this application does one very useful thing: It enables a customer to use her phone to take a picture of any piece of clothing and from that it pulls from the inventory of the retailer to assemble an outfit. This provides great value to the fashion neophytes like me and it provides great value to the retailer by curating an array of upsell opportunities. Plus, there are obvious segment extensions – (furniture, cosmetics) that are low hanging fruit as the company grows. Simple, useful, effective. 'nough said.

Where FindMine's simplicity wins the day, Maxpoint's use of ungodly amounts of data adds a totally different value prop. This is some real 'Minority Report' type stuff as they have a solution called Customer Catalyst that leverages a database of 105 Million households tied to specific plots of land to ID and achieve a cross-device view of the customer. This enables a much higher match rate and ability to know far greater specifics about customer interests and buying preferences in close to real time. Of course, this enables personalization to be taken to a new level; the holy grail of retail right now. The company is expanding beyond its traditional core of advertising based intelligence to a broader online/offline customer intelligence play with Customer Catalyst and it's in-store traffic solution PathPoint.

These guys win the Incisiv doppelganger award in that their messaging and go to market very closely resembles our philosophy – remove friction from the buying process (whenever and wherever it is) and building a two way relationship with the customer is where retailers will win. They've got a very interesting omnichannel platform that uses data science to learn consumer consumption habits and then times their ordering and reordering offers in a non-obtrusive, frictionless way. This is all done without having to rip and replace current systems. These guys are on our watch list for significant growth.