Companies considered employee experience leaders outperform the broader stock market, enjoy higher customer metrics, productivity, sales and profitability. Why, then, do only 1 in 10 adequately enable their frontline workforce with tools and training?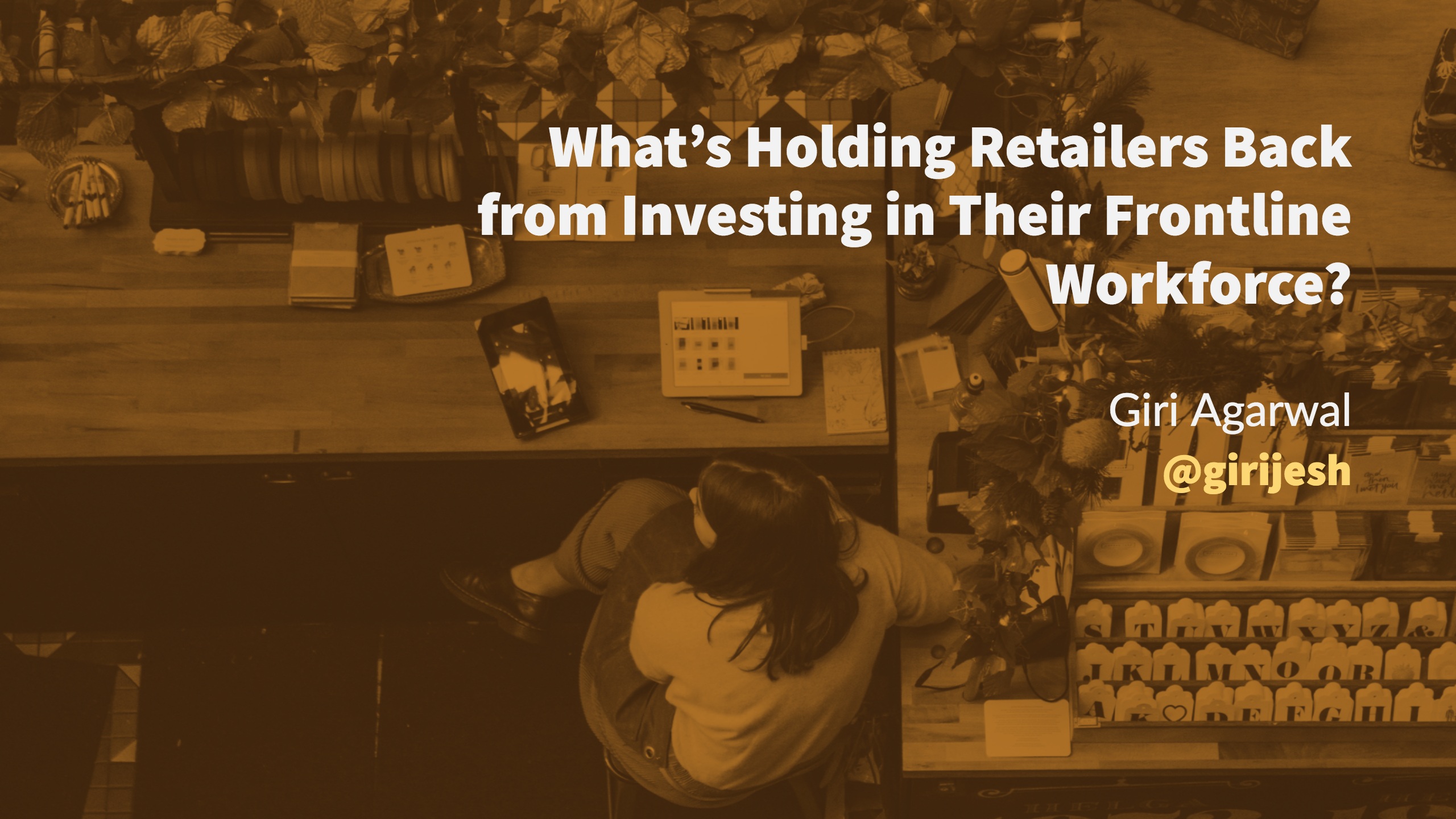 We recently studied 120 global retailers' strategies, investments, current capabilities and future plans related to enabling their frontline workforce (store associates, store managers, employees in non-corporate locations such as in the supply chain) with tools and training. The intent of the study, conducted in collaboration with Avanade and Microsoft, was to better understand how employee experience impacts business performance, and learn from the experience of those that qualified as Leaders in the study.
Only 5% of retailers qualified as Leaders. We've recently illustrated how for the remaining 95% this could mean up to a 10% loss of annual revenue and profit each ($110M annually for a retailer with $1B in revenue).
We believe this is a conservative estimate. Gallup, in its State of the Global Workforce study, estimates the profit impact to be as much as 20%. Gartner analyzed a set of companies rated as employee experience leaders over a 17 year period (1997-2014), and found that they outperformed the broader stock market, generating an annualized return nearly double the S&P 500 index. A great employee experience - enabled by the right culture, technology and training for the frontline workforce - has been shown to have a significant business impact.
Why is it, then, that retailers who adequately enable their frontline workforce with tools and training are exceptions rather than the norm? 80% of the retail workforce is Gen X, Y or Z. In their personal lives they are at the cutting edge of technology. Arrive at their job, and it is the dark ages, with notes on stickies (including secure credentials for the new system corporate just rolled out), physical task lists, and paper-based forms for things as mundane as break-fix requests and as strategic as customer feedback.
There are three things holding retailers back from being able to invest in the employee experience: unclear ROI, resistance to change and technology debt.
Unclear ROI
One in two retailers in our study cited an inability to quantify the potential return on investment as their primary roadblock to increased investment in the employee experience.
Findings from the study help retailers develop a clearer, more robust ROI business case. Retailers cited as Leaders in the study report significant improvements across key performance indicators (KPIs) that have a direct impact on sales and profit:
Increase in workforce retention (26%)
Increase in in-store conversion of shopper visits (16%)
Increase in customer satisfaction (12%)
Increase in the amount of time store associates can be customer facing (9%)
Increase in workforce productivity (9%)
These improvements amount to a potential sales and profit impact of up to $110M for a retailer with $1B in revenue.
Resistance to Change
The average employee turnover in retail at 70% (and close to 100% during the holiday season) points to a few realities: employees look at retail as a job, not a career; there is little difference in working for one retailer vs. another; and that employee turnover should be a retail CEO's single biggest strategic priority.
For a few retailers such as Costco, Chick-fil-A and Sephora, investing in the employee experience to drive a greater customer experience is part of their DNA. At the height of the recession in 2008, the average hourly wage at Costco was $19, and 86% of Costco employees (half of them part-time) received healthcare coverage. For a large majority of retailers however, investing in the frontline workforce requires a significant cultural shift as organizational "muscle memory" is hard to retrain. There are several CEO stereotypes in retail (the grew-up-a-merchant fashion-genius, the supply-chain hero, and increasingly the digital transformation artist), but conspicuous by its absence is the employee experience CEO.
The fact is retailers are competing with the likes of Uber (and UberEats), TaskRabbit (and Ikea), Amazon (and Whole Foods) and other exciting new-world companies for frontline talent, and those that don't focus on their employee experience will lose.
Technology Debt
More than two-thirds of a retailer's technology budget is spent on "run the business" maintenance - the sort of things that keep the lights on for the business, leaving little to funnel into strategic transformation programs. Employee experience investments are often deprioritized in the shuffle.
A harsh truth that retail CEOs must contend with: their technology teams' job security is deeply rooted in maintaining the status quo (of complex technology systems and unwieldy technology infrastructure that take specialized skill and knowledge-of-a-few to manage). For companies with separate "digital" and technology teams, the inevitable friction between the two may be necessary to accelerate internal change.
---
Retailers clearly associate an excellent employee experience with the ability to deliver a great customer experience (across 120 retailers who participated in the study, it was the unanimous top priority for increasing investments in frontline workforce technology and training). But, they are hampered by lack of "organizational will" to follow through – a combination of their culture, inadequate technology investment, and insufficient allocation of those funds towards tools for the frontline workforce.
To overcome these hurdles, retailers must reject the notion that their frontline employees are disposable commodities. They must focus aggressively on hiring, training and retaining the best talent by addressing cultural issues, investing in the frontline workforce and elevating the frontline employee experience.