And other thoughts from SAP's Industry Analyst Base Camp.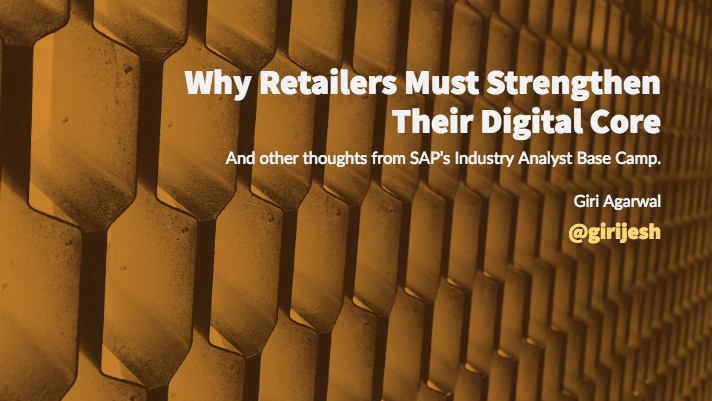 Incisiv was invited to attend SAP's Industries Analyst Base Camp (July 17-18) at its Newtown Square headquarters in PA. I attended along with resident-old-white-man Dave Weinand. We're not traditional industry analysts (no Wave, Quadrant or Index we can wave at SAP like a stick). So we carried with us a fresh perspective, no filter and our trademark humor.
You can learn a lot being surrounded by thicker resumes and sharper minds. Here are the 5 things that stayed with me when all that was left from the well-rehearsed agenda was gone.
---
1. The line between industries is blurring…………….because shopper expectations don't discriminate.
Consumers' expectations are shaped by their best experiences across industries. You no longer compete with just your next door neighbor. You compete with Uber for checkout, with Netflix for personalization, with Amazon for convenience and with Sears for irrelevance (please don't).
You compete with all consumer experiences, not just those in your industry.

It was refreshing to see SAP create opportunities for cross-industry conversation and collaboration at an industry-focused event. Comments from executives from Paypal and Tapestry (the parent company of Coach, Kate Spade and Stuart Weitzman) during a panel discussion validated the shared need of consumer industry businesses to have a clearer vision of why they exist and better understand and serve their customers.
2. Keeping the promise is more important than making the promise.
Most consumer industry businesses (retailers, brands, restaurants, hotels, airlines, retail banks etc.) have a defined "digital transformation" roadmap, and are are on varying levels of progress. Those that are seeing success share a few common attributes:
They were clear on what digital transformation meant for them; for their business, for their customer. You can't judge McDonald's digital strategy through a Starbucks colored lens. 75% of McDonald's revenue is Drive-Thru, and for it digital must aid speed-of-service.
They avoided me-too investments in customer experience, and carefully aligned front-end initiatives with back-end re-engineering. Even digital leaders such as Starbucks have faltered on this discipline previously. With inadequate training for store staff, no designated order pick-up area and no way to optimize kitchen operations from a spike in orders, its mobile order-ahead experience initially led to frustrating wait-times at pick-up for shoppers and higher labor cost for Starbucks.
Most retailers and brands operate under constrained capital conditions. Unlike Amazon, they do not have access to seemingly infinite capital at effectively zero rate. Investments in technology must therefore produce quick, positive results. And, to do so, these investments must be aligned with two very clear mantras: it should matter to customers, and they should be able to execute at scale to support sustainable revenue growth.
3. To keep the promise, you need a solid "Digital Core".
Tapestry - in pulling together three complementary but unique brands - needs to uphold each brand's promise, while delivering on investors' expectations of higher returns that the synergies of the acquisitions must bring.
Coach is mostly direct-to-consumer through its own stores and web, while Kate Spade and Stuart Weitzman sell both directly and through retail partners. Coach has to contend with a Chinese tourist shopping an American brand at their Paris store. How does it deliver a consistent brand experience? What does it do when the customer attempts to return the bag at their home store in Beijing, and the store doesn't even recognize the SKU? Free and easy returns is easy to say.
No technology firm offers a "customer promise to profitable execution" platform (yet).
Adobe and Salesforce have built out tremendous front-end capabilities, but rely on partnerships or system integrators to build deep back-end integrations. The jury's still out on whether Infor can convert its impressive vision, talent, vaporware (slides) and acquisitions into an enterprise platform. Larry Ellison is (again) transforming Oracle into its next avatar - that of a cloud-apps firm. The ever-evolving landscape of enterprise software providers sets up for a series of 'cage-matches' as the migration to cloud plays out.
From a platform perspective, SAP is well positioned through the rare combination of digital core (traditional ERP extended to be smarter, more flexible) and customer experience (a suite of front-end solutions that enable commerce, sales, marketing and service, including the erstwhile Hybris) solutions.
For SAP the challenge will be shedding its perception as a monolithic, inflexible, highly customized ERP (a dated reality that is now amplified as urban legend).
SAP's solution vision and architecture (courtesy, SAP Analyst Relations)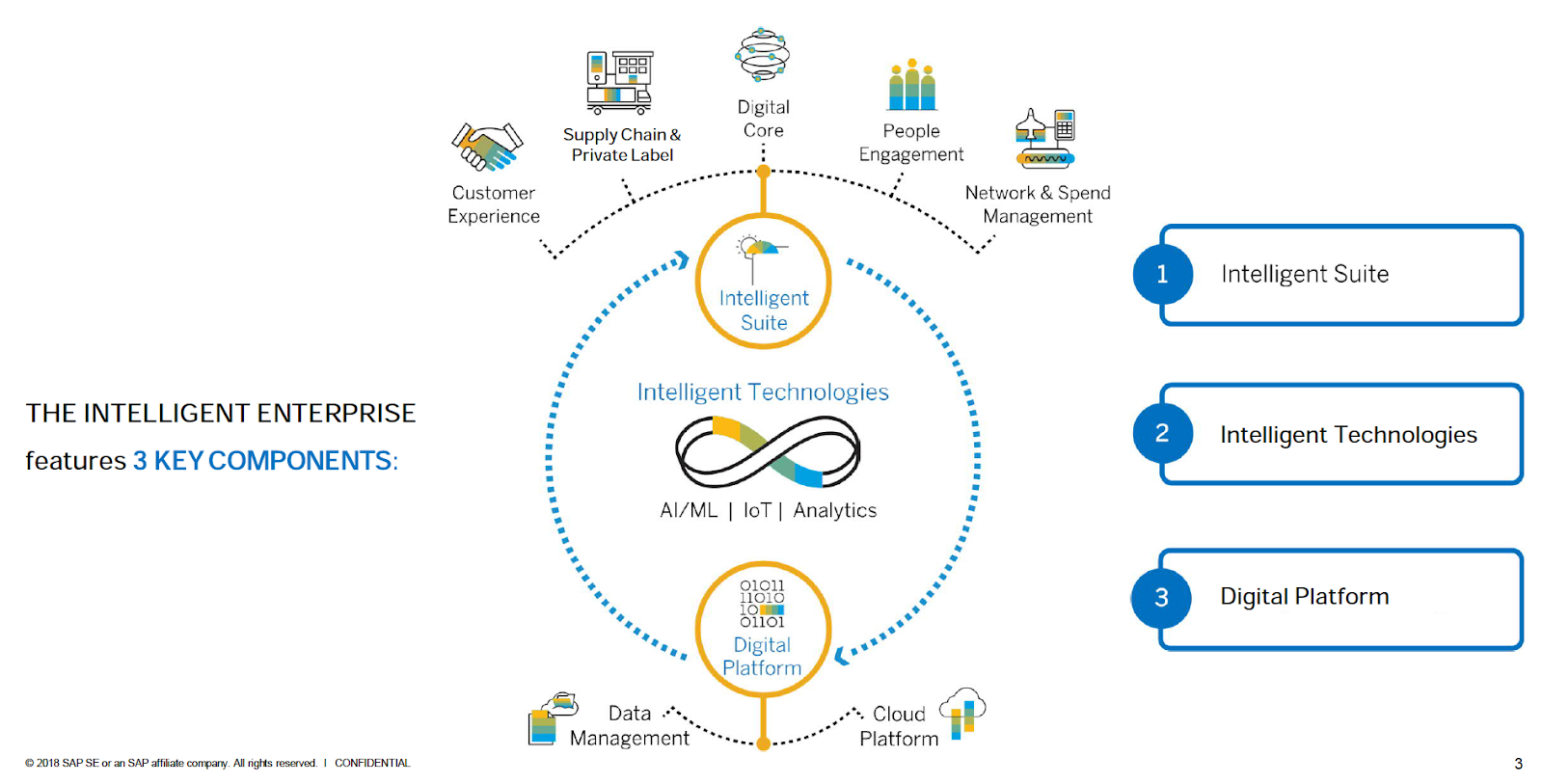 4. AI is everything. Everything is AI.
Today I saw somebody
Who looked just like you
She walked like you do
I thought it was you
As she turned the corner
I called out your name
I felt so ashamed
When it wasn't you, wasn't you, oh, oh
You are everything and everything is you
That's the famous Philadelphia soul band The Analytics, sorry The Stylistics, singing an ode to Artificial Intelligence.
There is a current industry pre-occupation of calling absolutely anything machine learning or artificial intelligence. The subtext is that buzzwords such as machine learning and artificial intelligence drive interest, attention and eyeballs.
SAP shared a few impressive use cases (such as Pandora utilizing image recognition within a chatbot interface to identify a broken pendant and suggest a replacement to the customer). There were, however, a fair share of basic reporting or historical analysis type analytics masquerading as artificial intelligence or machine learning.
5. Not the SAP you know.
As SAP positions itself as the transformation engine for businesses, it is itself undertaking massive change. It is, like its competitors, moving aggressively to redefine itself as a cloud-based enterprise software firm. It's Q2 2018 cloud revenue rose 40% Y-o-Y.
At Tapestry, institutional SAP knowledge, which was a key part of the business case of choosing SAP, became an initial hindrance (Tapestry's internal SAP "experts" had much to unlearn).
SAP continues to move its newer platforms to have more frequent updates and upgrades, be more open and flexible so they can enable new experiences quickly through microservices, have the benefit of strong data and analytics (dare I say artificial intelligence?) built-in.
It is building value at the edge of its platform via Innovation Kits (a sort of a sandbox built on top of SAP's cloud platform that can help businesses rapidly prototype, test and scale pre-built analytics use-cases) and Model Companies (a ready-to-use reference solution that can help companies accelerate discovery and solution adoption).
I just hope SAP sticks to these names for more than a blink-of-an-eye. There's many a great innovation that can sometimes feel lost in SAP's brand soup.
---
Side note: Newtown Square is a good 40 minutes away from downtown Philly. As it does almost everywhere we go, Eater helped us discover a local gem to add to the list of food or beverage establishments we would proudly recommend to our Speakeasy. Tipsy Bistro is one of those rare establishments that knows how to construct an amazing sandwich (The Wild Son in the Meatpacking District of Manhattan is another).